Mountain Bike in Lozere - South France
Mountain Bike in Lozere - South France
Biking trip in Margeride's forest
4 days / 3 nights or 5 days / 4 nights
Margeride is a granitic mountain located in the center of Massif Central. The highest point is 1.552 meters. Forests, moor, peatland and granitic stones form the landscape.
The itinerary takes you along forest trails, single tracks and country roads. This sportive route is a good way to discover by mountain bike this wild region of France.
Trip highlights:
- dense coniferous forests... a treat in summer!
- granitic chaos
- the summit of the Margeride, the thing of Fortunio (1552 m)
- the northern ambience of Lake Charpal
TYPE OF TRIP:
Guided Tour
A fully qualified MTB guide provides his services for party of 4 minimum
 
Independant Tour
We provide you with the maps and the road book. The accommdation and the catering will be reserved for you.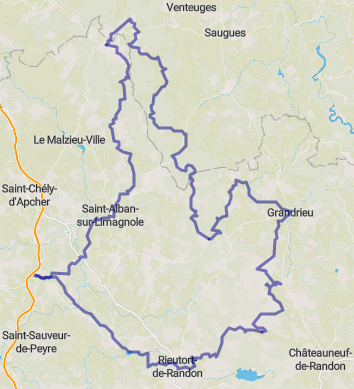 Travel advisories:
Hello
Very well back, delighted with these few days.
Some loose personal impressions:
- It's a pity, really, that you can't reach Aumont-Aubrac by train, but there's not much you can do about it...
- I hadn't been back in the area for years... Compostelle has become a hell of a business... what a contrast when I left the GR 65... no more people... no more Decathlon bags and outfits, and I was quite happy to find myself alone or almost alone.
- The course is really beautiful, varied as it should be ... a little too rolling, sometimes ... Beautiful moments of driving, often (the descent of the Truc de Fortunio!). An incredible calm and serenity ... it was a little cold, I could not stop too much to really enjoy it ...
- A perfect course for me, a bit sporty, but not too much (I finished each stage at the beginning of the afternoon, taking my time).
- The snack provided could have been spared: every day we pass through villages where it is possible to eat. I regretted not stopping at the inns of Chayla d'Ance and Chateauneuf de Randon, but I didn't want to throw away my snack!
- The welcome at the three gites was very nice and warm.
- The meals were really perfect
- Sleeping : With 50 brooms, you don't really want to cohabit with the snorers of Compostela anymore!
- The route is quite well marked, but the map is essential, the markings are sometimes erased... I used the GPS once after being completely off the track, the markings and the path having been destroyed by the skidders... (just before the fork to the short variant of the second day).
- Apart from that, chased twice by dogs, at the Chayla d'Ance and just before arriving at Aumont-Aubrac, at the Bouscas farm ... a yell "Down!" calmed the ardour of the cattle.
- Technical question, a semi-rigid ATV is in my opinion sufficient, but good brakes are necessary.
Really, great stay, that I'm going to recommend to some friends.
Thank you for the maps and the well marked trail, and at your disposal for any useful information for future hikers on this course.
Yours sincerely
Yann (Tour Margeride)
Good morning, Mr. CERTAIN,
Here we are back in our homes after 4 days spent in these two beautiful regions of Aubrac and Margeride.
We had a great time, the organization was perfect and I wanted to congratulate you for it.
The courses were strong, especially on the second day, which we did not complete in full (we chose the shortened option).
All in all, we finish with 215 km on the clock and more than 4600 meters of positive altitude difference. The objective is reached!
The weather was cool, the long sleeves were out but the sun was there, especially the last two days.
The welcome in the different places of accommodation, the sleeping and the catering were very good. A special mention for the second evening's gîte d'étape where we were particularly well received by our guests and where we spent a wonderful evening (magnificent view, simplicity, excellent meal, conviviality). A special mention also for the gîte the day before our departure where we arrived very late and where we could not have dinner. So our host refunded us the evening meals ! Many thanks to him for his honesty.
Well, it's already over, but we had a lot of fun (and a lot of legs) during 4 days and we were delighted.
Thanks again to you
See you soon maybe
Marc Antoine (Tour Aubrac and Margeride)
Good evening, sir,
Except for a rather gloomy weather, the 5 days of mountain bike riding were a success. The 2nd stage was a little "zapped" because of the threat of thunderstorm and the 3rd also because of mechanical boredom on the plateau (solved in St Chély). We preferred the tour of the Margeride for its courses more suited to mountain biking. The accommodation is quite adapted, nice and the meals copious and local color! Special mention to the Giraldes gîte, very friendly, family atmosphere as we like it! We were surprised by the number of walkers on the Compostela trail, I knew it was successful but not that much.
The comments about Langedoc Nature were everywhere praised and that was reassuring.
See you soon maybe for new discovery routes.
Pierre (Tour Aubrac and Margeride)
Hello, Frederic,
Here I am back in Guadeloupe
On my side out of my fall ! The stay was Top (I think the whole group enjoyed it)
In fact I fell on a guy who fell in front of me and I couldn't avoid him despite the safety distance I had kept between him and me! there was gravel on a nice downhill slope when he fell and he got in the way of the path blocking all exits.
I managed to finish the first day and I rode a good part of the second day.
On Sunday it rained and out of 9 bikers only 3 reckless riders started in the rain.
Very good general organization, meal questions, it was royal and very good ! (especially at the farm !!)
We were very well received, the rooms in (outside the hotel) were rudimentary but given the price "nothing to say".
It allowed us to get together in a room for some good laughs that feels good ! (doesn't change anything)
We had two days of great beauty and one rainy day. Your route was very well physical and we had in the group a friend who does raids so he has no problem with the IGN maps and who made us go through small variations to avoid pieces of road.
The GPS also helped us a lot
All in all it was great and we were lucky to have 2 days of great beauty on a "superb" region. Everybody had a great time and your organization was very good.
If you need any further information, please do not hesitate to contact me.
thanking you for this trip, maybe next year....
Fabien (Tour Margeride)
LEVEL:
This trip requires the participants to be in a good shape, to be able to practice mountain bike on a steep ground.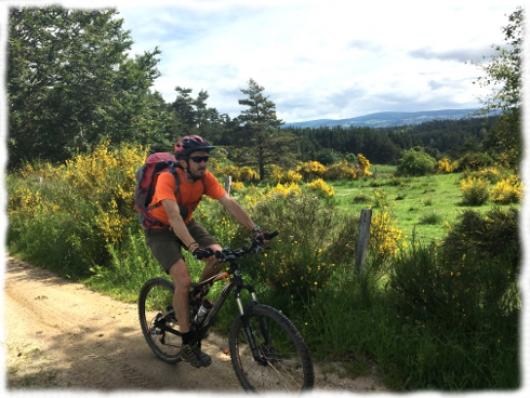 PROGRAM:
Discovering the Margeride mountains and the wide landscapes. The stages :
3 days tour
Day 1 : 44 km - elevation : + 1065 m / - 939 m
Day 2 : 56 km - elevation : + 984 m / - 887 m
Day 3 : 43 km - elevation : + 805 m / - 1028 m
4 days tour
Day 1 : 43 km - elevation : 1060 m
Day 2 : 46 km - elevation : 1110 m
Day 3 : 43 km - elevation : 860 m
Day 4 : 51 ou 40 km (if shorter variant) - elevation : 1025 ou 790 m
It is possible to modify the route in order to design it according to the level of everyone, from beginners to advanced persons, including children or not.
IMPORTANT : It's possible to associate "Tour de la Margeride" and "Tour des Monts d'Aubrac" (near Margeride mountains) -  4, 5, 6 or 7 jours.
4 days : from 50 to 69 km - elevation : from 1120 to 1745 m
5 days : from 43 to 65 km - elevation : from 855 to 1145 m
6 days : from 40 to 52 km - elevation : from 605 to 990 m
7 days : from 43 to 56 km - elevation : from 790 to 1250 m
PERIODS
From May to October
La prestation comprend
• Accommodation in gite for groups, hotels or in B&B.
• Breakfasts, packed lunches and dinners.
• The road book and the maps in the self guided trip
• luggage transport
La prestation ne comprend pas
• Personal expenditure • Comprehensive insurance (4,5%)
• The service of a guide (in the guided tour)
• The bike rental (possible
COME BY TRAIN:
We all know the impact of our car travels on the environment. Driving to the holidays location can produce a large amount of CO2 because of the long haul distance to get away...
Therefore, if low impact mobility interests you, Aumont Aubrac, welcomes you. A bus or our minivan can take you to your accommodation.
Check your journey by train with SNCF or OUIGO and contact us for any further information.