Snowshoeing in Aubrac
At the heart of large snowy expanses
5 days / 4 nights, 7 days / 6 nights or weekends - Gift Idea
2017 - 2018 Season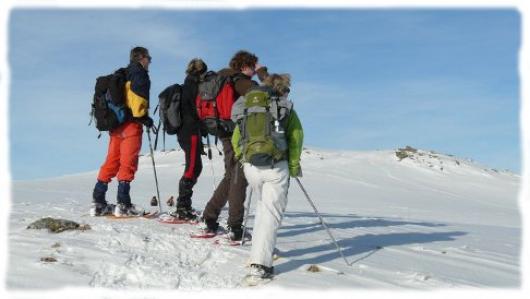 Off the beaten paths, we propose you to discover the sheer size of Aubrac's plateau. Snowshoes at your feet, you'll encounter a territory which, covered in white, will transport you to a Far North atmosphere. You will be in awe in front of those vasts expanses, those dense beeches and softwoods forrests where you could let your thirst of freedom run free.
Breeding lands for centuries, Aubrac will know how to reveal its rural heritage such as countless burons* of the plateau, not mentioning the local specialties that are Laguiole Cheese, Aligot, mountain delicatessen or gentian liquor …
* mountain farms with granite walls and lauze roofs, built where the sources are used to make cheese and its refining...
PROGRAM:
You'll experience your stay with a local mountain guide (snowshoeing qualified) who will make you discover in all safety his favourite trails. He'll know how to communicate his passion of his country, its history and its wilderness of Massif Central's high plateau.
5 days / 4 nights or weekend
You'll experience star-shaped hiking for the whole day.
7 days / 6 nights
2 Formulas :
"Star-shaped" hiking formula
You'll hike 1/2 days or the whole day (as you wish). each day, a different hike will make you discover the many faces of the plateau.
Mixed formula : "star-shaped" and roaming
For constitued groups of 6 people minimum.
This stay takes place in two stages. You begin with hiking for the whole day for the first  days then you roam by yourself for the next three days where you'll taste the joys of a winter adventure!
Snowshoe hiking

5 days / 4 nights - 7 days / 6 nights

Weekends *

 

From 245 € * / pers

 

* 6 pers basis

 

Guided Formula

 

The right price : The fee that we quickly send you take into account your staff or number of participants, the chosen formula and required options (to specify in the formula opposite).Thank you in advance for the accuracy of your informations.
Phone number : 04 67 45 00 67 or mail : fred-faby@languedoc-nature.com
PERIOD
2017 - 2018 Season
School holidays : contact us for a custom-made stay.
Receive our winter dates in time by subscribing to our Newsletter
5 days / 4 nights
December : 26/12 evening to 30/12 (only 2 or 4 days)
January : 7/01 evening to 11/01 and from 21/01 evening to 25/01
February : 4/02 evening to 8/02  and from 18/02 evening to 22/02
March : 11/03 evening to 15/03
7 days / 6 nights *
 
December : 26/12 evening to 30/12 (only 2 or 4 jours)
January : 7/01 evening to 13/01 and  21/01 evening to 27/01
February : 4/02 evening to 10/02  and  18/02 evening to 24/02
March : 11/03 evening to 17/03
 Weekends or 2 days formulas
Included in the program of the 4 or 6 days formulas.
! For constituted groups (starting from 4 people) - contact us : fred@languedoc-nature.com if you're interested in other periods.
! Important : a potential lack of snow doesn't question the stay, it either turns into a nordic pedestrial hiking, or moves to another date.
ACCOMMODATION AND MEALS:
"Star-shaped" formula : you will be lodged in a local hotel or a host chamber & table in all-inclusive (picnic at lunch).
"Star-shaped & roaming" formula : you will be lodged in gite or local hotel then gite for the roaming part.
TYPE OF TRIP:
The guide who will be with you during this stay is a true ambassador of his land. He isn't here randomly, he chose to live there and to make you discover it through his activity. he is an actual professionnal who perfectly knows the proposed trails and are always able to adapt them according to the participants' level or the meteorological conditions. Languedoc Nature strives to maintain a close link with its guides to offer you quality services.
LEVEL:
Even if the stay isn't a sports trial per se, it is however advised that snowshoeing (for 4 to 6 hours) requires a minimum of stamina. A little bit of practice is advised. Walking, joging or a little bit of bicycling can be a good way of having enough stamina for this activity.
COME BY TRAIN:
We are all aware of the environmental impact of our car trips. Going to holidays produce a significant amount of CO2 notably when we drive for a fair distance for a change of scenery...
So if the "light mobility" tempts you, the Mont Dore station is here to welcome you. A taxi cab can eventually make the junction to your accomodation.
Simulate your train trip or contact us for any complementary information.
The price includes :
• Lodging in all comfort, charming gite of stay or local hotel.
• Lodging in gite (2 last nights) for the 6 days  - mixed formula : star-shaped + roaming.
• Lunch picnics and dinners.
• Supervision by a local mountain guide (snowshoeing qualified).
• Snowshoe rental (if required)
• Luggage transport for the roaming (if required)
The price doesn't include :
• Cancellation insurance (4,5%) & multi-risks
• personal spendings