Nordic back country skiing raid in Lozere - Massif Central
Adventure with a big "A" !
7 days / 6 nights -  2017 - 2018 Season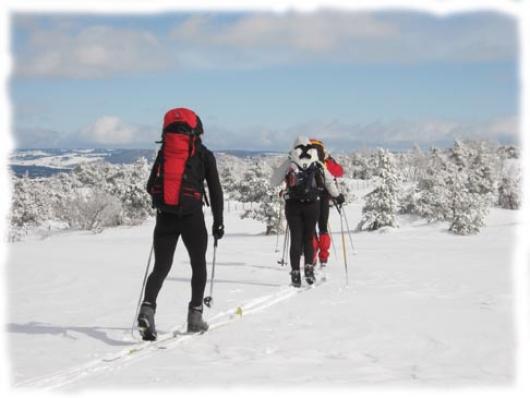 Margeride counts among Europe's most vasts granite massives with a 3500km² area. It is shaped like a backbone spreading over 60 km including 1200 and 1500m of altitude. Land of legends, it also is the land of large spaces with a great landscape variety : granite chaos, softwood forests and beech forests, moors. On the Mont Lozère, at the heart of the Parc National, you are on the rooftop of the Cévennes at 1700 m of altitude, offering you an exceptional view on the Causses, the massif de l'Aigoual, the Montagne Ardéchoise, the Ventoux and the Mont Blanc.
Guided by a local cross-country skiing instructor, you cross the ridges of Margeride and the Mont Lozère where you'll discover an incredible diversity of landscapes. To miss under no circumstances with your family or friends...
PROGRAM:
You'll experience this nordic cross-country skiing in group (starting from 4 people) supervised by a local cross-country skiing instructor. By crossing both Margeride and the massif du Mont Lozère, you'll discover an incredibly diversed trail in a guaranteed Nordic atmosphere.
1st day : 16 km - 2nd day : 19 km - 3rd day : 14 km - 4th day : 16 km - 5th day : 25 km - 6th day : 22 km.
This crossing can also be conceived for a shorter period (a section of the trail).
! Important : a potential lack of snow doesn't question the stay, it either turns into a nordic pedestrial hiking, or moves to another date.
Nordic hiking - 7 days / 6 nights

 

From 780 € / pers 

 

* 6 pers basis

 

Guided formulas

 

 

The right price : The fee that we quickly send you take into account your staff or number of participants, the chosen formula and required options (to specify in the formula opposite).

Thank you in advance for the accuracy of your informations.
Phone Number : 04 67 45 00 67 or mail : fred-faby@languedoc-nature.com
PERIODS
2017 - 2018 Season
To receive our program subscribe to our Newsletter.
January :  From 12/01 evening to 18/01
February : From 16/02 evening to 22/02
March : From 9/03 evening to 15/03
ACCOMMODATION AND MEALS:
- Lodging in gîte, inns and hotels.
- Lunch : picnics given the morning before departure
- dinners in accomodations
TYPE OF TRIP:
The guides who will be with you during this stay are true ambassadors of their land. They aren't here randomly, they chose to live there and to make you discover it through his activity. they are actual professionnals who perfectly knows the proposed trails and are always able to adapt them according to the participants' level or the weather conditions. Languedoc Nature strives to maintain a close link with its guides to offer you quality services.
LEVEL:
Supervised by a local guide, you progress in all safety on this Nordic trail that you discover. He gives you his technical advice, his knowledge of the trail and the region.
It will also be an opportunity to discover and learn orientation techniques.
This crossing is for people who have already practiced cross-country skiing and mastered most of the basic techniques of the discipline. This trail requires above all endurance and therefore good physical condition.
As for any winter sport, it is advised to prepare yourself physically for a feww weeks before departure (walking, jogging, bicycling). It will help you acquiring a good stamina, ease your recovery and fully enjoy your stay.
COME BY TRAIN:
We are all aware of the environmental impact of our car trips. Going to holidays produce a significant amount of CO2 notably when we drive for a fair distance for a change of scenery...
So if the "light mobility" tempts you, the St Flour station is here to welcome you. A Minibus-taxi cab can eventually make the junction to your accomodation.
Simulate your train trip or contact us for any complementary information.
The price includes :
• Lodging in gîte, inns et hotels.
• Lunches (picnics) and dinners.
• Supervision by a local ski instructor
• Transfert to departure point at the end of the hike.
The price doesn't include :
• Ski rental (if required)
• Luggage transport (if required)
• Cancellation insurance (4,5%) & multi-risks
• Personal spendings