From Grands Causses to Méditerranée by mountain bike
From Grands Causses to Méditerranée by mountain bike
Viaduct of Millau, Larzac, Salagou lake, vineyards, garrigues ...
and final at Cap d'Agde !
7 days / 6 nights
E-Mountain bike *
Dare the South Massif Central and the Languedoc for a swim in the Mediterranean!
This last section of the Grande Traversée du Massif Central offers you a real cocktail of landscapes and environments for a colorful ride... But that's not all, you will experience the transition between the mountains and the South, the one that warms up, the one that awakens the senses and the taste buds!
From the beginning, you are in the atmosphere with the causse of Larzac : large expanses which testify to a multi-secular pastoralism, villages caussenards, ruiniform rocks... The geology is really generous, it is a treat for the eyes and the driving is playful. The volcanic flows of Escandorgue then the forest of the Monts d'Orb lead you into a completely different atmosphere, those of the red ruffes of the Salagou Lake and its unusual natural setting. The scents, the olive trees, the capitelles and the wine villages accompany you from now on... you are in Languedoc and "taste" with pleasure its playful ways between vineyards, scrubland and pine forests.
The proximity of Pézenas - city of Molière - and the arrival on the Via Domitia reveal the richness of the local heritage. All that's left to do is to go to the Canal du Midi and then to the town of Agde... the fine sand and the Mediterranean await you for a well-deserved splash !
Photos Languedoc Nature and Photo credit - G.Delerue - ADT Hérault
* E - Mountain bike : On request, it is possible to integrate the rental of an electric mountain bike at the start of this crossing
Trip highlights:
- Larzac, land of pastoralism
- the built heritage
- the "playful" paths plunging into the Languedoc!
- the Salagou and the contrasts of colors
- the scents of the garrigue
- the pleasures of the table without forgetting the Languedoc wines...
- the arrival at the edge of the Big Blue and the "plouf" to close the GTMC !
Idea : And if you want to look upstream from this section of the GTMC ? It is, here !
TYPE OF TRIP:
Freedom" formula"
You have a topo-guide with the route of the stages, the corresponding IGN maps and the detailed topo-synthesis of the route (cartographic documents). Your accommodation and meals are reserved by us.
Supervised" formula"
You can do this tour with a mountain bike guide (state certified - B.E). The groups leave from 4 to 6 people.
Raid formula - made to measure
For those who want to do this trip in a "softer" or more "sportive" version, please contact us (fred@languedoc-nature.com) and we will make you a customized proposal taking into account the specificities of your request.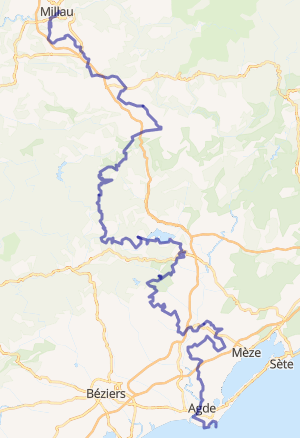 Travel advisories:
‌Bonsoir Fred
Bob et moi gardons un très bon souvenir de cette semaine VTT en Mai:super!
L'organisation était parfaite, l'accueil chez l'habitant et les paysages au top, encore merci.
Merci et bonne saison
Annelise et Robert - Mai 2021
Bonjour Fred,
Tout c'est très bien passé: nous avons eu un temps splendide !
D'un point de vue sportif: top ! Les distances prévues par vous étaient parfaits pour notre niveau: environ 4h de conduite par jour, donc assez intensif, mais pas trop non plus. De temps en temps des trajects techniques, mais la plupart parfaitement faisable.

D'un point de vue nature: absolument top top top ... Quelle magnifique région !!

D'un point de vue organisation (incl. préparations des traject): parfait ... nous n'avons eu aucun souci !

En ce qui concerne les hébergements: tous très bien ! Une remarque spéciale pour les repas, qui étaient partout très bien. Seul point de remarque à ce niveau, celui du 4ème gîte comparé avec tous les autres hébergements, le repas du soir était d'un niveau nettement plus bas.
Conclusion : à part de ce dernier point d'attention, c'était simplement une semaine splendide que nous nous retiendrons encore longtemps !
Bien-à-vous,
Kenny - Belgique
Bonjour Fred,
Encore merci pour l'organisation. Nous nous sommes vraiment régalés et cette balade était exactement ce que nous recherchions (découverte, challenge sportif, du bon temps entre potes). Ce qui a le plus impressionné mes amis c'est l'accueil dans les gites et chambres d'hôtes et surtout la qualité des repas. Ils ne s'attendaient  pas à manger si bien et autant (personne n'a perdu du poids malgré nos 4 heures de vélo quotidiennes ...)
On a trouvé super le fléchage du parcours et la diversité des tracés. On ne tombe jamais dans l'ennui d'une trop longue portion.
Cyril - Bouches du Rhône
Bonjour Fred,
Pour nous, pas grand chose à dire, accueil dans les gîtes parfaits, paysages superbes, montées parfois un peu rudes, mais nous ne sommes pas des champions.... Une belle découverte, avec beaucoup de plaisir.
Le prochain objectif est de finir cette traversée.
Avec encore nos remerciements pour l'organisation parfaite.
Aude et Denis (de Suisse)
Dear Fred,
We just wanted to write and let you know how much we enjoyed the VTT holiday you organised for our group on 8th October, starting from Millau.
The organisation was very good and we were particularly impressed with the accommodation and French hosts you had picked. They were all very friendly and hospitable and their accommodation, cooking, breakfasts and packed lunches excellent.
The weather was very kind to us, which made the biking very enjoyable.
Thank you again. We look forward to the next one!!
Kind regards
Gill & Phil  - October 2018
De Millau à Cap d'Adge, 6 jours de VTT sur des parcours bien choisis à travers des paysages riches et variés. Organisation très fiable et un choix d'hébergement plein d'agréables surprises. Parcours finalement tout à fait agréable malgré les grosses chaleurs de ce mois de juillet. Merci Languedoc nature, merci Fred.  
Emmanuel –  Juillet 2018 (Suisse)
Bonjour Fred,
Nous sommes bien rentrés et avons encore les yeux plein de belles images.
Nous avons profité de conditions atmosphériques formidables. Pas une goutte de pluie et une chaleur agréable. Baignade en rivière et au Lac Salagou.
Les cartes et les tracés GPX ont été fort utile. Le début du tracé était bien balisé puis plus rien ou presque.
Le parcours proposé nous a beaucoup plu. Il nous a paru un peu plus difficile du point de vue technique que l'année passée. Ce n'est pas une critique, mais nous avons parfois eu l'impression que l'on avait volontairement cherché les sentiers les plus techniques alors que nous nous serions parfois contentés du chemin blanc parallèle au lieu d'emprunter un sentier plutôt difficile à passer tout sur le vélo. Peut-être que ce serait bien, pour certains tronçons, d'indiquer les 2 variantes en indiquant les différences de difficultés techniques afin de satisfaire tous les participants d'un groupe de niveaux différents.
Côté hébergement, tout a été parfait. Accueil, repas, logement et pique-nique ok, même vraiment très bien pour certains.
Taxi retour également ok.
Donc pleine satisfaction. Le dépannage vélo a aussi été impeccable et très apprécié.
Donc merci pour organisation et bon suivi et bien cordialement.
Monique + l'équipe - De Suisse - Fin Juin 2018
Bonsoir Fred,
Nous sommes rentrés en Bourgogne après un super séjour  aux environs de Sommières, chamante petite ville où nous avons continué à faire des rencontres parfois surprenantes.
Nous revenons peu à peu à la vie courante, et nous garderons un souvenir très marqué de cette semaine magnifique passée sur les chemins du Massif Central et du Languedoc (de Florac au Lac du Salagou).
Encore merci pour la préparation et pour le retour à Florac.
Dans l'attente d'un prochain voyage Languedoc Nature, nous vous souhaitons une excellente saison et toute la réussite, bien méritée par l'organisation proposée.
Nous avons cherché, mais finalement nous n'avons rien trouvé de négatif sur notre séjour. Nous n'avons qu'une sugestion d'amélioration pour les petits dèj des étapes qui nous ont paru légers, et qui pourraient être plus "sportifs" et à minima, proposer des fruits et yaourt.
Pour le reste, rien à dire, bravo à tous les prestataires qui nous ont reçus, merci pour leur accueil chaleureux et pour leur gentillesse.
Bien amicalement
Caroline & Gilles (Beaune)
Bonjour,
Très beau raid ,sous la neige et dans le froid les 2 premiers jours.
Les hébergements sont très corrects des fois un peu vétustes mais authentiques, c'est ce que nous aimons .
Quelques imperfections au niveau des traces GPS .
Mais nous avons l'habitude et un peu d'effort intellectuel pendant le pédalage ne fait pas de mal et le pack "road book" était complet et bien fait.
Nous ne sommes pas encore décidés pour l'année prochaine pour la suite de la GTMC .
A bientôt peut être .
Eric (Région Parisienne)
Dear Fred,
It was fantastic for everyone!
First two days were quite hard due to the weather: all day rain, wind  and hail… thereof we had splendid weather conditions
Then Tom, Gert and me we added every day an extra circuit to attain around 70km and 1800 alti meters.
All the different  overnights were al fantastic with their local and special charms and surprices every evening…
Also the return drive was good and the used trailer was of good quality for the bikes.
Remarks:
Last day was not so good MTB ridable… we lost a GPS there so I you would hear from it…
I would not allow my team mates anymore to cancel the picnic… I and others missed it…
We expected like on GTJ that you would have joint us on an evening…
Regards and thanks,
Sven
Bonjour,
Dans l'ensembre la traversée en VTT s'est très bien déroulée, de même pour le rapatriement des bagages. Globalement les kilomètres, la variété des terrains et le temps passé sur la selle étaient conformes à notre attente. La diversité des hébergements et des tables d'hôtes ou gîtes étaient parfaits et intéressants.Les prestations des pique-niques et repas étaient de qualité avec à chaque fois de très bons produits.
Cette première expérience en itinérance nous a enchantés et nous espérons à nouveau vous recontacter pour de nouveaux horizons.
Merci encore et à très bientôt,
Florence et Stéphane
Amateurs de Grande Traversée à VTT (Jura, GTMC, Herault, Saint-Jacques...), nous avons trouvé auprès de Languedoc Nature, expérience, savoir-faire et organisation. Mais ces qualités peuvent aussi se trouver ailleurs......
Alors le plus de Languedoc Nature c'est le service la disponibilité et l'assistance sept jours sur sept.
Lors de notre dernière randonnée, nous avons connu maints soucis techniques. Merci à LN d'avoir été toujours présent et de nous avoir procuré le bon conseil."
Gérard - Un Vttiste passionné
LEVEL:
This trip requires a good physical condition and a certain endurance (length of some stages and difference in altitude) as well as experience in mountain biking on rough terrain.
As with any multi-day sport activity, we advise you (as far as possible) to prepare yourself physically by practicing mountain biking a few weeks before your trip (it's even better if you do it all year round) in order to build up or strengthen your endurance. A few gym sessions or jogging sessions can also help prepare you for the trip.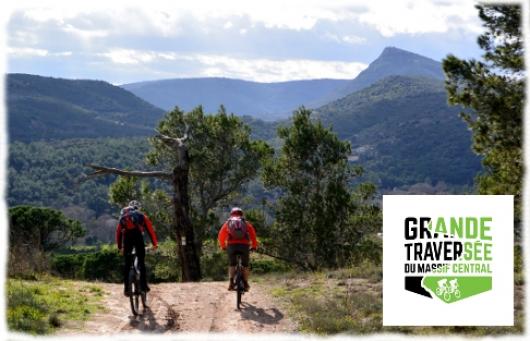 PROGRAM:
The Grande Traversée du Massif Central is coming to an end ... but what a finale !
The Millau viaduct is watching you as you climb the ramps that lead you to the magical, authentic and sublime Causse du Larzac... We reserve you a superb course to join the Languedoc through landscapes of any beauty. The Mediterranean Sea is there to welcome you and to close a beautiful adventure... it is now time to take a dip, you have earned it!
MTB Crossing - 6 days
Stage 1 : 49 km - altitude : 1025 m
Stage 2 : 46 km - gradient : 1035 m
Stage 3 : 36,5 km or 49,5 km (with optional loop in the Lac du Salagou sector) - gradient : 750 or 1020 m
Stage 4 : 35 km - gradient + : 605 m
Stage 5 : 41,5 km - gradient + : 385 m
Stage 6 : 57,5 km - gradient + : 560 m
To make you want to discover this final of the GTMC, watch this video on the sector of Pézenas :
La GTMC à VTT des Grands Causses à la Méditerranée proposée par Languedoc Nature from Fabienne on Vimeo.
PERIOD
Season 2021 - from April to the end of October
The price include
- Lodging in hotels, guest houses and gites.
- Lunch (picnic) and evening meals.
- The topo-synthesis & profile of the stages for the free formula, the IGN maps with the route and the topo-guide
- The return by minibus at the end of the crossing
- Luggage transportation (can be removed if desired)
- Supervision by a mountain bike guide (for the supervised formula)
The price doesn't include
- Cancellation (4.5%) & comprehensive insurance
- Personal expenses
COME BY TRAIN:
We are all aware of the environmental impact of our travel by car. Going on vacation is a significant source of CO2 emissions, especially because we usually travel long distances to get away from it all... So if "soft mobility" tempts you,
So if you are interested in "soft mobility", Millau station is there to welcome you. Simulate your journey by train or contact us for any further information.