Cycling travel in Aubrac and Margeride - Massif Central
From the wide plateaus in Aubrac to the Margeride's forests.
6 days / 5 nights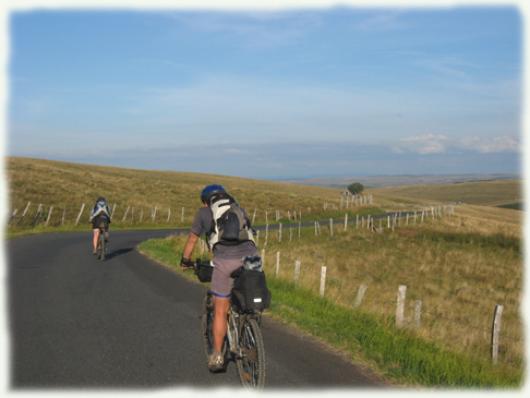 Pedal in Margeride: wild highlands with forests, moorlands, peatlands, granite chaos and pastures. In Aubrac, the landscape is hilly with endless grasslands, the roads are bordered with granit stones and beech forests.
At Languedoc Nature, we know pretty well the area, so we organise quality routes. It means that we design the itinerary throughout roads with low traffic to let you discover peacefully the landscapes in Massif Central.
The choice of the hotels, gites, B&B, restaurants and other suppliers is one of our main concern. We are willing our clients to experience the best during their holidays with us.
PROGRAM:
Throughout Massif Central, off roads take you accross deep forests and wide grasslands made for the pasture of the typical Aubrac cows. A nice trip to appreciate a quite pleasant area where the nature is impressive.
Day 1 : 47 ou 52 km - elevation : 1035 m or 1250 m
Day 2 : 66 km - elevation : 1495 m
Day 3 : 53 km - elevation :970 m
Day 4 : 49 km - elevation : 1015 m
Day 5 : 45 km - elevation : 865 m
Cycling tour

 

6 days /5 nights

from 520 € */ person

 

* base 6 persons

 

Self guided tour - possible from 1 personne

Guided tour - starting from 4 people

The right price : we will send you by email an offer which will take into account your choices (number of people, option chosen, bike hire or not...) we thank you in advance for the information you will send us.
Contact phone : +33 4 67 45 00 67 Mail : fabienne@languedoc-nature.com
ACCOMMODATION AND MEALS:
Languedoc Nature book accommodation, breakfast, packed lunch and dinners.
LEVEL:
This biketour is intended for people who are used to cycle on hilly routes. It is better to book this trip if you practise regularly sport all year long.
COME BY TRAIN:
We all know the impact of our car travels on the environment. Driving to the holidays location can produce a large amount of CO2 because of the long haul distance to get away...
Nearest train stations : Aumont-Aubrac
Check your journey by train with SNCF or OUIGO and contact us for any further information.