Cycling travel in the Cathar Chateaus Area
Bike Tour to visit the Cathar Castels in South France
7 days / 6 nights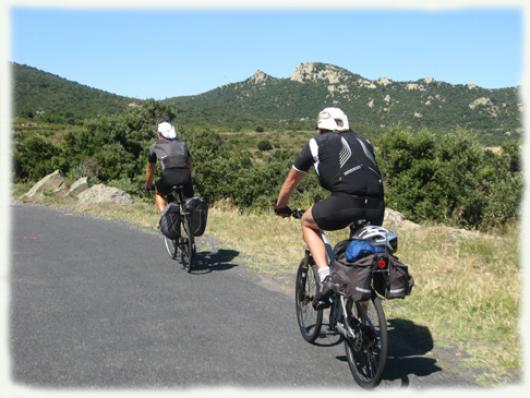 The cathar castles were built on the top of mountains, so if you want to visit them you need to be firm on the pedals !
At Languedoc Nature, we know pretty well the area, so we organise quality routes. It means that we design the itinerary throughout roads with low traffic to let you discover peacefully the landscapes in Languedoc.
The choice of the hotels, gites, B&B, restaurants and other suppliers is one of our main concern. We are willing our clients to experience the best during their holidays with us.
PROGRAM:
Tremendous itinerary which takes you from the Mediterranean Sea to the Pyrenees throughout the Corbieres vineyards and garrigues. It is a good opportunity to visit these fortified castles to understand the history of the area. Experience typical villages and taste mediterranean dishes and beverage.
Day 1 - 63 km
Day 2 - 68 km
Day 3 - 59 km
Day 4 - 56 km
Day 5 - 60 km
Day 6 - 60 km
Cycling tour

 

7 days / 6 nights

à partir de 670 € */ pers

 

* base 6 pers

 

Self guided tour - possible from 1 personne

Guided tour - starting from 4 people

The right price : we will send you by email an offer which will take into account your choices (number of people, option chosen, bike hire or not...) we thank you in advance for the information you will send us.
Contact phone : +33 4 67 45 00 67 Mail : fabienne@languedoc-nature.com
PERIODS
From Mai to the end of Octobrer
ACCOMMODATION AND MEALS:
Languedoc Nature book accommodation, breakfast, packed lunch and dinners.
LEVEL:
This biketour is intended for people who are used to cycle on hilly routes. It is better to book this trip if you practise regularly sport all year long.
COME BY TRAIN:
We all know the impact of our car travels on the environment. Driving to the holidays location can produce a large amount of CO2 because of the long haul distance to get away...
Nearest train stations : Port la Nouvelle
Check your journey by train with SNCF or OUIGO and contact us for any further information.