Le Tour des Monts d'Aubrac by Mountain Bike
Le Tour des Monts d'Aubrac by Mountain Bike
Biking in Massif Central
6 days / 5 nights - 5 days / 4 nights - 5 days / 3 nights
Aubrac is a wide basaltic and granitic plateau which is almost 2.500 km². It is located in the Massif Central area. During your mountain bike trip we take you in the heart of these high lands where the Aubrac cow is raised. Trails are bordered with stones, beech woods and small rivers. Each stage will unveil beautiful sceneries, the richness of the flora (1800 different species) and the local traditions.
Like every other Mountain Biking holidays, we suggest you to travel either with a guide or not.
Trip highlights:
- 360° wide open spaces
- an alternation of rolling paths and more technical trails (but not too many!)
- Aubrac cows
- a flora of great richness
- local flavours (Laguiole cheese, Aubrac meat, aligot, gentian liquor, Aubrac tea...)
TYPE OF TRIP:
Guided Tour
A fully qualified MTB guide provides his services for party of 4 minimum
 
Independant Tour
We provide you with the maps and the road book. The accommdation and the catering will be reserved for you.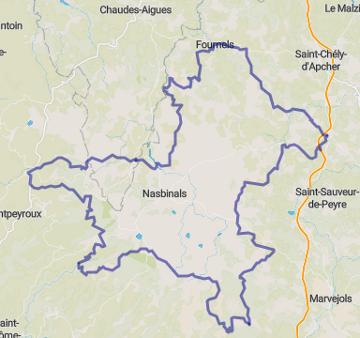 Travel advisories:
Hello
3 beautiful courses. Very good reception in the 3 sites
Correct restorations and good accommodation with every time super bathrooms.
We are delighted with our stay. One with the lady.
Thank you very much for your time.
See you soon.
Michel du Lot
 
Hello Frédéric
Our mountain bike trip around the Monts Aubrac went very well. Thank you for the organization and the choice of the accommodations where we were, for each one, received by people of a great kindness. Apart from some differences between the "terrain" and the gpx trace due to the evolution of the paths: lack of passage, no cleaning of the paths and also some have suffered from the recent storms and climatic events of this year; but all this is quite normal, isn't it?
In the end we had an excellent mountain biking trip which we will keep a very good memory.
Eliane and Claude
Good morning, sir,
Super region, nice route, good welcome, very nice exchange in the gîtes, well eaten but you have to be careful to follow the map.
thank you for everything
Rooms for Rent - Shared - Makati
It's over but everything was perfect: hotels, routes, meals, welcome ... just the rain of the 2nd day but we took comfort in Germaine's house.
To be redone on other paths. Thank you. Thank you.
Claude
Good morning, sir,
We enjoyed this trip, it's a very beautiful region, the route, the accommodations and the organization.
Too bad we had rain during 3 days but we can't control everything...
I will contact you again for another destination next year.
Cordially
Philippe & Sylviane
Hello, Frederic,
I was just about to write you a note.
I really enjoyed this stay which corresponded exactly to my expectations, no technical or organizational problems, even the weather was perfect.
The welcome in the 3 gites was good, the meals and picnic too.
I was afraid to meet a little too many pilgrims but it was only the case during the first km from Aumont.
Despite very light VAE assistance settings, I was able to complete the 3 routes, including the long variant, in about 4 hours excluding breaks.
The tracks were perfect, I was wrong only 3 times, I think it was due to the GPS inaccuracy of the iphone.
I will gladly recommend your services.
Have a great summer's end to you.
Yours sincerely
Olive tree - Burgundy
Good morning, sir,
My impressions as well as those of the other participants are extremely positive.
Magnificent region, varied route and perfectly adapted to mountain biking. Very good reception of the guests. Very correct meal and superb weather!!!!! ... :o)
We just had a stress on the third day because the luggage had not arrived at the hotel. They had been deposited by the taxi in another hotel !!! but with the help of the person in charge of our hotel, the problem was solved within the hour.
So I say thank you for this wonderful stay!!!!
Cordially,
Serge - Belgium
Good morning, sir,
Thank you for your mail. I had planned to contact you again after receiving your parcel, but unfortunately I wasn't able to make it through to the next stage.
I wanted to thank you for the excellent preparation/organization of my trip which went very well except for the weather conditions which were not always very good. This allowed me to verify that Aubrac can be an enchanting country under the sun but rather austere, even hostile under the rain. As for the route, the stages were perfectly adapted to what I wanted, with nevertheless some passages that were a bit difficult (compulsory portage, very stony passages, etc...). I also appreciated the accommodation with a very good mark for the 2nd and 3rd nights, not to mention the very reliable service of the taxi in charge of the luggage.
It is therefore a very positive assessment that I draw from this very pleasant experience that I would not fail to recommend to those around me and - if possible - to repeat.
Yours sincerely.
Pierre
Good morning, Mr. CERTAIN,
Here we are back in our homes after 4 days spent in these two beautiful regions of Aubrac and Margeride.
We had a great time, the organization was perfect and I wanted to congratulate you for it.
The courses were strong, especially on the second day, which we did not complete in full (we chose the shortened option).
All in all, we finish with 215 km on the clock and more than 4600 meters of positive altitude difference. The objective is reached!
The weather was cool, the long sleeves were out but the sun was there, especially the last two days.
The welcome in the different places of accommodation, the sleeping and the catering were very good. Special mention should be made of the second evening's gîte d'étape where we were particularly well received by our guests and where
and where we spent a wonderful evening (magnificent view, simplicity, excellent meal, conviviality). A special mention also for the gîte the day before our departure where we arrived very late and where we could not have dinner. So our host reimbursed us for the evening meals ! Many thanks to him for his honesty.
Well, it's already over, but we had a lot of fun (and a lot of legs) during 4 days and we were delighted.
Thanks again to you
See you soon maybe
Mark Antony
LEVEL:
This trip requires the participants to be in a good shape, to be able to practice mountain bike on a steep ground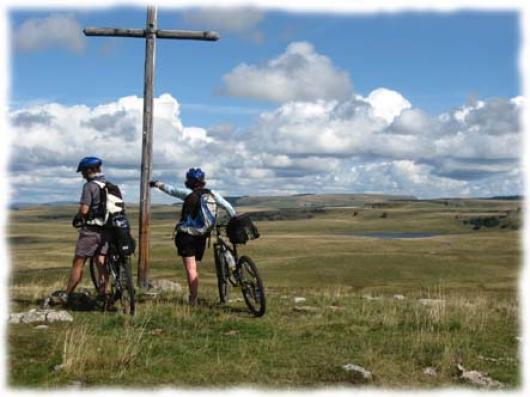 PROGRAM:
Discovering the Aubrac plateau and the wide landscapes. The stages :
5 days tour
Day 1 : 42 km - elevation : 950 m
Day 2 : 40 km - elevation : 765 m
Day 3 : 43 km - elevation : 1125 m (shorter variant possible)
Day 4 : 46 km - elevation : 970 m
Day 5 : 40 km - elevation : 850 m
4 days tour
Day 1 : 42 km - elevation : + 950 m
Day 2 * : 45 km - elevation : + 795 m
Day 3 * : 43 km - elevation : + 1125 m
Day 4 * : 40 km - elevation : +  665 m
* variant with shortest route is possible
3 days tour
Day 1 : 43 km - elevation : + 835
Day 2 : 42 km - elevation : + 955 m
Day 3 : 40 km - elevation : + 665 m
It is possible to modify the route in order to design it according to the level of everyone, from beginners to advanced persons, including children or not.
IMPORTANT : It's possible to associate "Tour des Monts d'Aubrac" & "Tour de la Margeride" (near Aubrac plateau) -  4, 5, 6 or 7 jours.
4 days : from 50 to 69 km - elevation : from 1120 to 1745 m
5 days : from 43 to 65 km - elevation : from 855 to 1145 m
6 days : from 40 to 52 km - elevation : from 605 to 990 m
7 days : from 43 to 56 km - elevation : from 790 to 1250 m
PERIODS
From April to October
La prestation comprend
• Accommodation in gite for groups, hotels or in B&B.
• Breakfasts, packed lunches and dinners.
• The road book and the maps in the self guided trip
• The luggage transport
La prestation ne comprend pas
• Personal expenditure

• Comprehensive insurance (4,5%)
• The service of a guide (in the guided tour)
• The bike rental (possible)
COME BY TRAIN:
We all know the impact of our car travels on the environment. Driving to the holidays location can produce a large amount of CO2 because of the long haul distance to get away...
Therefore, if low impact mobility interests you, Aumont Aubrac, welcomes you. A bus or our minivan can take you to your accommodation.
Check your journey by train with SNCF or OUIGO and contact us for any further information.