Mountain Biking on the Larzac plateau
Mountain Biking on the Larzac plateau
Bike on Larzac - Templars and Hospitalers lands
4 days / 3 nights - 5 days / 4 nights - 7 days / 6 nights (long Tour of Larzac)
The Larzac plateau is a perfect place for the back country bikers. Wild areas on the Causse, tremendous viewpoints on the Cévennes offer the best conditions to discover the amazing natural richness of the environment. We propose to choose between two tours which will take you along the historic paths of Templars and Hospitallers Orders.
Trip highlights:
- various paths on the Causse, in the gorges, in the forest... a delight!
- a land of pastoralism (the Unesco Causses and Cévennes area)
- built heritage caussenard
- Circus of Navacelles and gorges of the Vis
- the medieval city of the Couvertoirade (visit)
- Exceptional flora (May - June)
TYPE OF TRIP: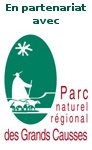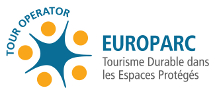 This stay was set up in collaboration with the Parc Naturel Régional des Grands Causses, which is committed to the European Charter for Sustainable Tourism (CETD).
Languedoc Nature has obtained the approval of section 3 of the European Charter for Sustainable Tourism. This distinction was awarded by the French section of Europarc and applies to travel operators engaged in the promotion of sustainable tourism in protected areas.
- Guided trip : a qualified guide takes you along the trails according to your level and your expectations.
- Self guided trip: we provide you with a road book and the maps. We book for you your accommodation and your meals.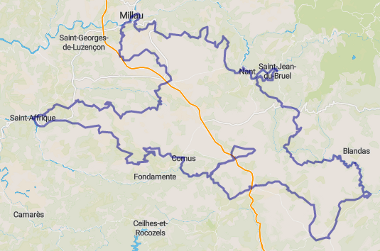 Travel advisories:
Good morning, sir,
We have just completed the tour of Larzac by mountain bike: superb ride, no notable incident (some mechanical problems...), superb weather (hot...!!). As in our previous experience in Aubrac, we have only congratulations for the organisation, the itineraries, the accommodation...(and the country is splendid!).
For the itineraries there were some variations, some volunteers, some not! Are you interested to know them?
At another time probably...
Cordially
Etienne
Good evening, sir,
We would also like to express our satisfaction. This stay perfectly met our expectations.
The region is splendid and the sports courses are very good. Your courses were perfectly balanced for each day and we had no difficulty in finding our way around thanks to your indications on the maps and not too many punctures.
The first morning with the guide was very profitable. We were able to improve our technique and above all discover the region and what awaited us. This guide is a great listener and very professional and we greatly appreciated him.
The welcome at the hotel and in the gites was of very good quality and we met some nice people (good services).
We will renew this type of stay, taking a little more time in advance, and this time why not in the Causse Méjean. We will not fail to contact you for a next trip!
Thanks again ! With kind regards.
Claude and Valérie
Good morning, sir,
Yes it was a very pleasant stay, a very warm welcome, good food with a very nice enbiance and very friendly accommodation. We escaped the rain during this stay and the weather was not so bad. Some quite technical paths in some places, some difficulties of pushing, some unevenness a little bit hards but on the whole very good courses with the discovery of the beautiful landscapes of this region. As a bonus, we visited some churches, chapels, villages, tasted and bought some good wines and cheese... The routes were quite well detailed on the maps but the markings were not always obvious !!! the use of GPS is still good and to be advised. Thanks again for a great stay in this beautiful region.
PS: every year we are looking for new ideas for discovery, please let us know when you have some suggestions and information.
Very cordially.
Michel
The trick you gave me was great. I really liked the small roads even if it was not always easy to ride. But the landscape was fantastic! Also the accommodations were good. They were all very nice. As far as the road was concerned I found everything except once. The second day was hard in general, I was really tired in the evening as it often went up. But all in all I am very happy and I would like to continue this excursion in the region. The way of travelling like this pleases me very much."
Katja from Zurich.
Everything went really well. Welcoming, very nice weather, nice trip in a beautiful environment, especially the return from La Couvertoirade. We will come back. Very satisfied. See you next time.
Lionel de Béziers
I must tell you that I was delighted by this mountain bike ride on the Larzac. I crossed some magnificent, sometimes even sumptuous places. (A big + for the gorges of the Vis). Your organisation was once again excellent. I renew my confidence in you. Looking forward to a new hike.
Jean Philippe de Mireval
LEVEL:
This trip requires the participants to be in a good shape, to be able to practice mountain bike on a steep ground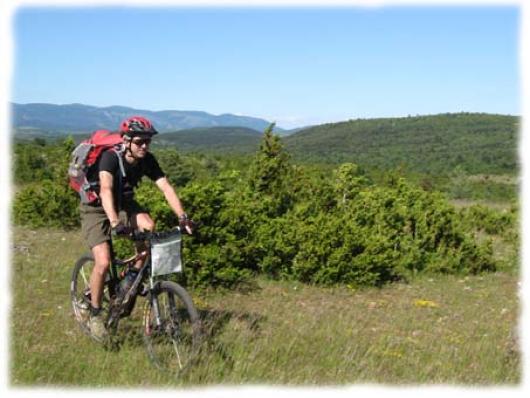 PROGRAM:
Tour 3 days
Day 1 : 39 or 43 km - elevation : + 585 m
Day 2 : 40 km - elevation : + 813  m
Day 3 : 37 km - elevation : + 614  m
Tour 4 days
Day 1 : 43 km - elevation : + 585 m
Day 2 : 40 or 52 km - elevation : + 850 o r1225 m
Day 3 : 56 ou 53 km - elevation : + 1045 m
Day 4 : 42 km - elevation : + 880 m
Tour 6 days - New 2014
Day 1 : 43 km - elevation : + 585 m
Day 2 : 40 or 52 km - elevation : + 850 or 1225 m
Day 3 : 46 km - elevation : + 920 m
Day 4 : 52 km - elevation : + 1295 m
Day 5 : 42 km - elevation : + 1050 m
Day 6 : 42 km - elevation : + 880 m
IMPORTANT : This trip can be designed either for advanced bikers or for groups including children. Please, contact us for further information.
PERIODS
From April until November
La prestation comprend
• Accommodation in gite for groups, hotels or in B&B.
• Breakfasts, packed lunches and dinners.
• The road book and the maps in the self guided trip
• The service of a guide (if selected)
• The luggage transport
La prestation ne comprend pas
• Personal expenditure

• Comprehensive insurance (4,5%)
• The bike rental (feasible option)
COME BY TRAIN:
We all know the impact of our car travels on the environment. Driving to the holidays location can produce a large amount of CO2 because of the long haul distance to get away...
Nearest train station : Montpellier or Millau. A bus or a minivan can take you to your accommodation.
Check your journey by train with SNCF or OUIGO and contact us for any further information.