Hiking with a donkey - Between St Guilhem mountain, Vis river gorges and Larzac plateau
Chemin de St Jacques and trails of Larzac
5 days / 4 nights and 7 days / 6 nights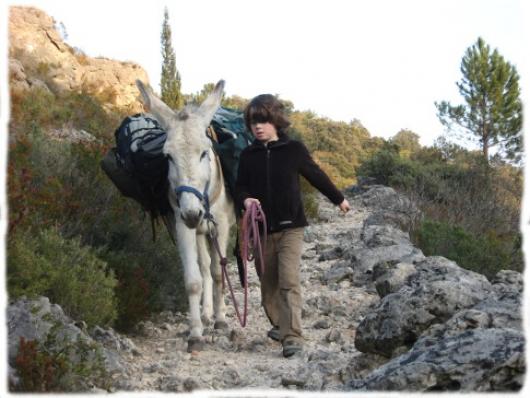 Located to the north of the Hérault department, the Seranne mountain is a real limestone barrier made up of chaos, rocky escarpments and narrow valleys. Characterized by a great diversity of landscapes, one discovers a Mediterranean type environment on its southern slope and the wide open spaces of the Larzac plateau in the North. Accompanied by a donkey, you leave with family or friends on the Way of St Jacques de Compostelle to discover and meet a backcountry rich in historical and natural heritage.
You will discover in particular the magnificent medieval village of St Guilhem le Désert, where you can visit the Abbey of Gelone (a UNESCO World Heritage Site).
Your hiking companion will carry your luggage and, at the end of the day, tired children. Undoubtedly, a great complicity will be born from these exchanges and will thus contribute to the success of your stay.
PROGRAM:
You will hike through the magnificent mountain ranges of Seranne, Monts de St Guilhem le Désert and Larzac at an average rate of 10 to 15 km per day (adapted to the rhythm and physical capacities of the children).
Hiking 4 days : stages of 10,9,12 and 12 km for a difference in altitude: from + 100 to + 450 m. Duration of the stages: between 3 and 4 hours.
Hiking 6 days : stages of 10,14,17,10,10,13 and 10 km for a difference in altitude: from + 50 to + 500 m. Duration of the stages: between 4 and 6 hours.
Possibilities also for stays of 3 or 5 days - on request.
Please note: the proposed hiking trips are the result of a close collaboration with our partners.
For any further information on these hiking trips and details of the stages, please contact us by clicking below:
Hiking with a donkey

5 days / 4 nights ou  7 days / 6 nights

from 335 € */ pers - adult et 285 € */ pers - chidren

 

* base 4 persons

 

self guided formula - departure from 1 person

guided formula - departure from 4 persons

 

The right price: the price that we send you quickly takes into account your membership or the number of participants, the chosen formula and the desired options (to be specified in the form opposite).

Thank you in advance for the accuracy of your information.
Contact  tél : 04 67 45 00 67 ou mail : fred-faby@languedoc-nature.com
PERIODES
Toute l'année.
ACCOMMODATION AND MEALS:
Accommodation in gîtes d' étapes, bed and breakfast and local hotels depending on the stay.
Lunch: picnic in the morning before departure.
TYPE OF TRIP:
Guided formula:
You will be accompanied by a local mountain guide (A.E.M). Knowing the massif like his pocket, he will be happy to share his passion and knowledge of the region with you.
Self guided formula:
You have an IGN card at 1/25000ème, your accommodation and meals are reserved by us.
The duration of the stages of this stay is calculated according to the rhythm of the children and donkeys (based on 3 km per hour), they require a good physical condition but do not present any major difficulties. Donkeys carry 40 kg of maximum luggage, i. e. about 1 donkey for 3 to 4 people. The reception takes place the evening before - night lodging and table d' hôtes.
COME BY TRAIN:
We all know the impact of our car travels on the environment. Driving to the holidays location can produce a large amount of CO2 because of the long haul distance to get away...
Therefore, if low impact mobility interests you, Montpellier station, welcomes you. A bus or our minivan can take you to your accommodation.
Check your journey by train with SNCF or OUIGO and contact us for any further information
The rate includes
• Accommodation in gîte d' étape, bed and breakfast and local hotel
• Lunchtime picnics and evening meals.
• The supervision by a mountain guide *
• Donkey service.
• The IGN card and the topo detailed in the freedom formula.
* pour la formule encadrée
The rate doesn't include
• Personal expenditure
• Comprehensive insurance (4,5%)