Hiking Tour Crossing Larzac
Hiking Tour Crossing Larzac
In the heart of the Grands Causses Regional Natural Park
7 days / 6 nights or 6 days / 5 nights

Through this stay, we propose you a real "Traversée du Larzac", the largest and southernmost of all the causses. From Millau, you will travel through this vast steppic plateau, a land of passage and rest between Languedoc and Rouergue, from the Middle Ages onwards, starting in the 12th century, under the impetus of the Templar order, where villages were built on the Larzac, and in particular La Couvertoirade, which you will discover along the way. Here, man has written part of his history thanks to the only material available: stone. You can admire the architecture of the farms and hamlets, and finally you will reach the Escandorgue and the gates of Languedoc, after having crossed the Guilhaumard plateau, whose floral richness is rare and remarkable.
Trip highlights:
- Millau city of glove
- the Millau viaduct
- the wide open spaces of the larzac
- the medieval city of Couvertoirade
- Roquefort, the king of larzac cheese
TYPE OF TRIP:
Guided tour
From 4 persons, your can be guided by a fully qualified local guide. This person is passionate by his region and he knows how to share with you his knowledge about landscapes, the flora and the fauna or the heritage
Self guided tour
You are given maps (1cm=250m) and a road book describing the hike.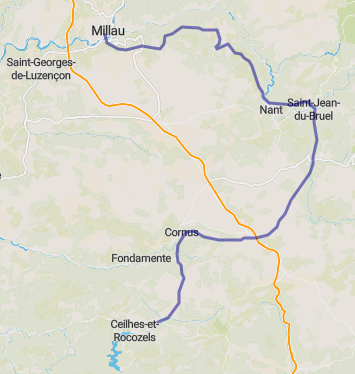 Travel advisories:
Hello, Frederic,
We were delighted with our week of hiking, very well organized. The proposed itinerary was great, and gave us the opportunity to see a great variety of landscapes.
As far as accommodation and meals were concerned, we were very happy with the quality of the food and the warm welcome.
Thank you again for the quality of your service!
In any case, we won't hesitate to come back to Languedoc Nature if we want to hike in the region again!
Kind regards,
Alain & Hélène
Translated with www.DeepL.com/Translator (free version)
LEVEL:
This hike is quite easy, although you need to be in a good shape. A regular physical effort all year long will help you to have fun during this trip.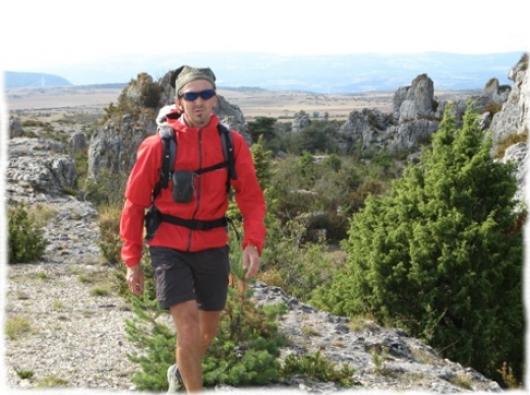 PROGRAM: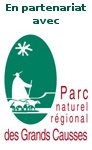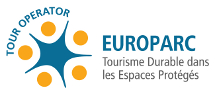 Languedoc Nature has obtained the approval of part 3 of the European Charter for Sustainable Tourism. This distinction was awarded by the French section of Europarc and applies to travel operators engaged in the promotion of sustainable tourism in protected areas.
The 2nd day can be organised with a local guide (from 4 persons). He will introduce you to the Larzac plateau through the specificities of flora, fauna and geology.
Hike 6 days
Day 1 : 16,8 km - elevation : 670 m
Day 2 : 15,2 km - elevation : 430 m
Day 3 : 18,2 km - elevation : 300 m
Day 4 : 20 km - elevation : 685 m
Day 5 : 16 km - elevation : 330 m
Day 6 : 16 km ou 21 km - elevation : 490 ou 795 m
Hike 5 days
Day 1 : 16,8 km - elevation : 670 m
Day 2 : 15,2 km - elevation : 430 m
Day 3 : 18,2 km - elevation : 300 m
Day 4 : 20 km - elevation : 685 m
Day 5 : 20,4 km - elevation : 310 m
PERIODS
From April to November
La prestation comprend
• Accommodation in gite for groups, hotels or in B&B.
• Breakfasts, packed lunches and dinners.
• The road book and the maps in the self guided trip or a guide in the guided tour.
• Luggage transportation (if desired)
La prestation ne comprend pas
• Personal expenditure
• Comprehensive insurance (4,5%)
COME BY TRAIN:
We all know the environmental impact of our car journeys. Going on holiday is a significant source of CO2 emissions, especially since we usually travel long distances to get away from home...
So if you are tempted by "soft mobility", Millau station is there to welcome you. A coach or minibus will join you with your accommodation.
Simulate your train journey or contact us for further information.