Hiking along the St Guilhem Trail
On the ancient medieval way in Languedoc
14 days / 13 nights or 3 times 4 or 5 days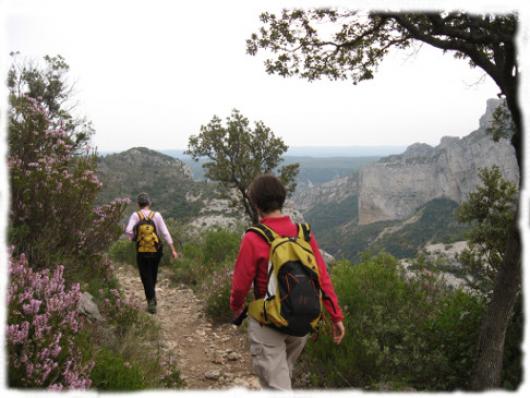 Some routes such as this itinerary deserve to be highlighted… The hikers cross major natural sites and pass by rich architectural heritage. This medieval pilgrimage route used to be taken by those who walked to the Gellone Abbaye in Saint Guilhem le Désert. This route was usually taken for sales exchange and by shepherds for migration of cattle between Langguedoc and Central Massif.
Between Aubrac and Saint Guilhem le Désert, there is a wide range of landscapes :
Aubrac with its prairies bordered by low stone walls, the Causses and their steppe like landscape, the Tarn and Jonte Gorges, the Aigoual Mountain, the Vis Gorges, the impressive Navacelles Cirque  and before finishing the trip overlooking St Guilhem from the ridge of the Seranne.
Walking along this trail is a wonderful experience to visit the natural and historical heritage and meet people.
Take a chance to take a deep breath far away from our buoyant lives.
PROGRAM:
We propose this walking tour inits entirety (13 days), from Aubrac to Herault river Gorges (St Guilhem le Désert).
But we also offer this hike on 4 or 5 days for 3 sections.
From Aubrac to Lot valley
Day 1 : 15,5 km - déniv + : 350 m
Day 2 : 19 km - déniv + : 495 m
Day 3 : 23 km - déniv + : 440 m
Day  4 : 15,5 km - déniv + : 280 m
From Causses & Gorges du Tarn to Aigoual massif
Day 1 : 21 km - déniv + : 695 m
Day 2 : 22 km - déniv + : 990 m
Day 3 : 16 km - déniv + : 315 m
Day 4 : 15,5 km - déniv + : 940 m
From Aigoual mount to St Guilhem le Désert
Day 1 : 19 km - déniv + : 620 m
Day 2 : 22 km - déniv + : 785 m
Day 3 : 13 km - déniv + : 260 m
Day 4 : 15 km - déniv + : 1105 m
Day 5 : 20 km - déniv + : 715 m
Hike

14 days / 13 nights (full hike)

 

From 970 € */ pers

 

Section of 4 * or 5 days

 

From 325 € */ pers

 

* base 6 persons

 

The price will vary according to the number of people, the duration of the stay and the selected itinerary & options. Please fill in the form accordingly.
For any further information, please contact:
Phone : +33 4 67 45 00 67
Mail : fred-faby@languedoc-nature.com
PERIODS
From April to November
ACCOMMODATION AND MEALS:
- Accommodation in gites for groups and in B&B (arrival the previous day).
- Lunch: Picnic given each morning prior to departure.
- Dinners : local tastes.
TYPE OF TRIP:
Guided tour
From 4 persons, your can be guided by a fully qualified local guide. This person is passionate by his region and he knows how to share with you his knowledge about landscapes, the flora and the fauna or the heritage
or
 
Self guided tour
You are given maps (1cm=250m) and a road book describing the hike.
LEVEL:
This hike requires a good physical shape and a fair resistance due to the length of the stages and the difference in height.
Like every activity lasting few days, you should prepare yourself by walking everyday at least 30mn. Going to the gym or jogging would bring some benefit to prepare this stay.
COME BY TRAIN:
We all know the impact of our car travels on the environment. Driving to the holidays location can produce a large amount of CO2 because of the long haul distance to get away...
Therefore, if low impact mobility interests you, Aumont Aubrac, welcomes you. A bus or our minivan can take you to your accommodation.
Check your journey by train with SNCF or OUIGO and contact us for any further information
La prestation comprend
• Accommodation in gite for groups, hotels or in B&B.

• Breakfasts, packed lunches and dinners.

• The road book and the maps in the self guided trip or a guide in the guided tour.
La prestation ne comprend pas
• Personal expenditure
• Comprehensive insurance (4,5%)
• The transportation of lugage (possible if chosen)