Hiking along the St Guilhem Trail
Hiking along the St Guilhem Trail
On the ancient medieval way in Languedoc
14 days / 13 nights or 3 times 4 or 5 days
Some routes such as this itinerary deserve to be highlighted… The hikers cross major natural sites and pass by rich architectural heritage. This medieval pilgrimage route used to be taken by those who walked to the Gellone Abbaye in Saint Guilhem le Désert. This route was usually taken for sales exchange and by shepherds for migration of cattle between Languedoc and Central Massif.
Between Aubrac and Saint Guilhem le Désert, there is a wide range of landscapes :
Aubrac with its prairies bordered by low stone walls, the Causses and their steppe like landscape, the Tarn and Jonte Gorges, the Aigoual Mountain, the Vis Gorges, the impressive Navacelles Cirque  and before finishing the trip overlooking St Guilhem from the ridge of the Seranne.
Walking along this trail is a wonderful experience to visit the natural and historical heritage and meet people.
Take a chance to take a deep breath far away from our buoyant lives.
Trip highlights:
- the vast expanses of the Aubrac plateau
- the gorges and the green waters of the Tarn
- the steppes of the Causse Méjean
- the beautiful forests of the Aigoual Massif
- the circus of Navacelles and the gorges de la Vis
- les Monts and the medieval village of St Guilhem le Désert
TYPE OF TRIP:
Guided tour
From 4 persons, your can be guided by a fully qualified local guide. This person is passionate by his region and he knows how to share with you his knowledge about landscapes, the flora and the fauna or the heritage
or
 
Self guided tour
You are given maps (1cm=250m) and a road book describing the hike.

Travel advisories:
Fred and Fabienne,
Thank you again for organizing a wonderful hike - The Way of St Guilhem le Désert.
I posted a review on Google. I had to add it to the Tour du Mont Aubrac from 2017 because Google would not let me introduce a new comment.
The Chemin de Saint Guilhem le Désert was a 13 day trek organized by Languedoc Nature, Fred and Fabienne.
This trek is not a walk in the park! It is a moderate challenge, but extremely rewarding in terms of views and a sense of personal achievement.
Languedoc Nature has organised the entire trek from; trail maps, GPX files, daily luggage transfer, accommodation and quality catering.
We are originally from the United States and have been hiking in France for many years. In previous years, we have spent many hours organizing our own hikes, picking up the trails, lodging and carrying all our gear in our bags.
With age, we have become smarter and now let the professionals of Languedoc Nature coordinate the trek preparations. It's a much better stay when they take care of everything.
This is my second trek with Languedoc Nature and not the last.
KC and David - from Colorado - May 2019
The proposed route was well cut, the stages were balanced and we discovered magnificent landscapes.
The accommodations were correct, the welcome was warm except once when people were colder.
Thank you again for your help.
Laurette
We only did part of the hike but everything was SUPER!
Nice organization, hotels, lodgings, meals ... Really very good !
Beautiful region ! And the people we met in Lozere were really to very welcoming ! It surprised us !
Good continuation
 
Patricia
Good morning, sir,
Back from this beautiful hike, I want to thank you (my father joins me) for the organization, it was great!
The distances were pleasant, we had a great time to walk, not too hot, not too much sun but quite pleasant clearings. A little rain on the first day but the rest was perfect!
We finally didn't do the last stage, it was more convenient to stop at La Canourgue to take the train the next day without taking a taxi.
We ate very well, the tables were friendly, the gîtes and hotels were comfortable and the hosts were very welcoming.
As for the meals, everything was great, especially the great table d'hôte on the second evening.
Thank you in any case for your service, very professional, very good!
We will talk about Languedoc Nature around us,
Good luck!
Julie
Hello
We are delighted with this hike even though the weather was not always good. The maps, the topo and the quality of the markings made the hike without any particular difficulty except for the variiante gr6a badly marked. We appreciated the beauty and variety of the landscapes and the encounters along the whole route.
The quality of the picnics vary a lot, maybe it is not necessary to plan when you can find in the villages what to prepare a picnic.
In short, a very pleasant stay. We will not fail to make known at the same time your organization and the path of saint guilhem.
Thanks again.
Christian & Martine
Good morning, sir,
I'm sorry I'm a little late.
It was a perfect vacation, and I thank you again for finding a solution for our son in such a short time.
I don't know about the other B&Bs in the area, but the ones we stayed in were very welcoming and we were received like kings.
A hike that we will no doubt recommend, recommending a minimum of walking training beforehand.
Thank you once again for the perfect organization.
Kind regards.
Guy
Good evening
It's with a bit of delay that I answer your email.
Our little trip was "Wonderful" we enjoyed a rather pleasant weather (except 1 day) and even very hot on one of our stages ... but we had an excellent reception which quickly restored us ...
We were too well received and fed in the evening and the picnic...(to know that for us this is not the only criterion)
We came back with uncommon landscapes and smells in our heads.
Ready to go again !!!
When our savings have been rebuilt...
Thank you for your help, we have repeatedly given your contact details because the people we were talking to found our tour interesting...
On the advice of our hosts in Navacelles we went through Madeira (I don't have the
map in front of you) it lengthens a little bit but the climb to get out of the circus is just as nice as the finish.
Patricia
LEVEL:
This hike requires a good physical shape and a fair resistance due to the length of the stages and the difference in height.
Like every activity lasting few days, you should prepare yourself by walking everyday at least 30mn. Going to the gym or jogging would bring some benefit to prepare this stay.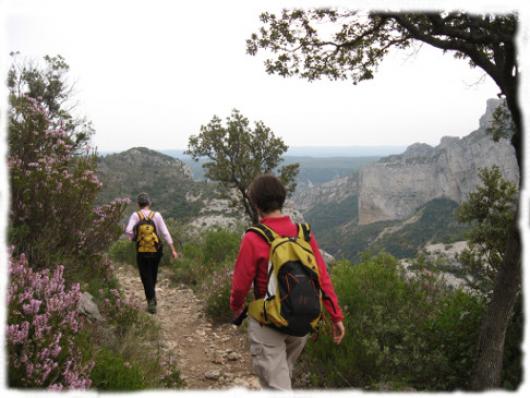 PROGRAM:
We propose this walking tour inits entirety (13 days), from Aubrac to Herault river Gorges (St Guilhem le Désert).
But we also offer this hike on 4 or 5 days for 3 sections.
From Aubrac to Lot valley
Day 1 : 15,5 km - déniv + : 350 m
Day 2 : 19 km - déniv + : 495 m
Day 3 : 23 km - déniv + : 440 m
Day  4 : 15,5 km - déniv + : 280 m
From Causses & Gorges du Tarn to Aigoual massif
Day 1 : 21 km - déniv + : 695 m
Day 2 : 22 km - déniv + : 990 m
Day 3 : 16 km - déniv + : 315 m
Day 4 : 15,5 km - déniv + : 940 m
From Aigoual mount to St Guilhem le Désert
Day 1 : 19 km - déniv + : 620 m
Day 2 : 22 km - déniv + : 785 m
Day 3 : 13 km - déniv + : 260 m
Day 4 : 15 km - déniv + : 1105 m
Day 5 : 20 km - déniv + : 715 m
PERIODS
From April to November
La prestation comprend
• Accommodation in gite for groups, hotels or in B&B.
• Breakfasts, packed lunches and dinners.
• The road book and the maps in the self guided trip or a guide in the guided tour.
La prestation ne comprend pas
• Personal expenditure
• Comprehensive insurance (4,5%)
• The transportation of lugage (possible if chosen)
COME BY TRAIN:
We all know the impact of our car travels on the environment. Driving to the holidays location can produce a large amount of CO2 because of the long haul distance to get away...
Therefore, if low impact mobility interests you, Aumont Aubrac, welcomes you. A bus or our minivan can take you to your accommodation.
Check your journey by train with SNCF or OUIGO and contact us for any further information.