Hike on the Causse Méjean and in the Cevennes
Hike throughout steppes...
3 days / 3 nights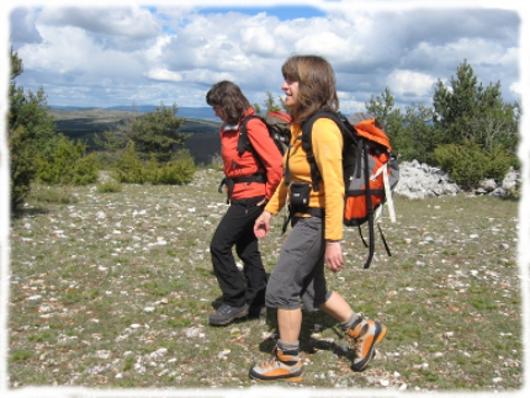 The wide steppes of the Causse Mejean offer typical landscapes such as natural grassland which have always been appropriated to develop sheep breeding either for meat or for the milk. The milk is intended to produce Roquefort cheese. . During this itinerant hike through these hilly areas, geological curiosities await you: dolines where cultures concentrate, caves or enigmatic dolomitic ruins. You will also be able to appreciate the flora of an extraordinary diversity, the fawn vulture in search of a carcass of sheep or the horse of Przewalski...
PROGRAM:
This 3 days hike takes you throughout the Causse Mejean
Day 1 :  21 km  - elevation : + 581 m / - 688 m
Day 2 :  23 km - elevation :  + 711 m / - 637 m
Day 3 :  18 km - elevation : + 452 m / - 416 m
! It is also possible to convert this stay into a star tour on the Causse Méjean. The opportunity to discover at your own pace the diversity of the region's natural and cultural heritage. During the day or half-day, you can make thematic hikes during which you will discover the peculiarities of the local flora and fauna, the reintroduced animal species and taste the flavours of the soil to reward your efforts during the day...
PERIODS
From April until October
Hike - 4 days / 3 nights

 

from 295 € */ person

 

* base 6 persons

 

Self guided tour

 

The price will vary according to the number of people and the selected  options. Please fill in the form accordingly.
For any further information, please contact:
Phone : +33 4 67 45 00 67
Mail : fred-faby@languedoc-nature.com
A noter : Rando canoë gorges du Tarn
Pour celles et ceux voulant prolonger le séjour dans la région, il est possible de coupler cette randonnée à une descente en canoë dans les Gorges du Tarn. Pour plus d'information, nous contacter.
ACCOMMODATION AND MEALS:
- Accommodation in gites for groups and in B&B (arrival the previous day).
- Lunch: Picnic given each morning prior to departure.
- Dinners : local tastes.
TYPE OF TRIP:
Guided tour
From 4 persons, your can be guided by a fully qualified local guide. This person is passionate by his region and he knows how to share with you his knowledge about landscapes, the flora and the fauna or the heritage
Self guided tour
You are given maps (1cm=250m) and a road book describing the hike.
LEVEL:
This hike is quite easy, although you need to be in a good shape. A regular physical effort all year long will help you to have fun during this trip.
COME BY TRAIN:
We all know the impact of our car travels on the environment. Driving to the holidays location can produce a large amount of CO2 because of the long haul distance to get away...
Therefore, if low impact mobility interests you, Millau, welcomes you. A bus or our minivan can take you to your accommodation.
Check your journey by train with SNCF or OUIGO and contact us for any further information
The rate includes
• Accommodation in gite for groups, hotels or in B&B.
• Breakfasts, packed lunches and dinners.
• The road book and the maps in the self guided trip or the service of a guide in the guided tour.
• Les visites guidées et commentées (pour randos en étoile).
The rate does not include
• L'assurance annulation (4,5%) & multirisques
• Les dépenses personnelles