Hiking loop Causses, Tarn Gorges and Jonte Gorges.
Cevennes National Park and Grands Causses Natural Park  - 6 days / 5 nights
Guided hike throughout 3 or 4 days.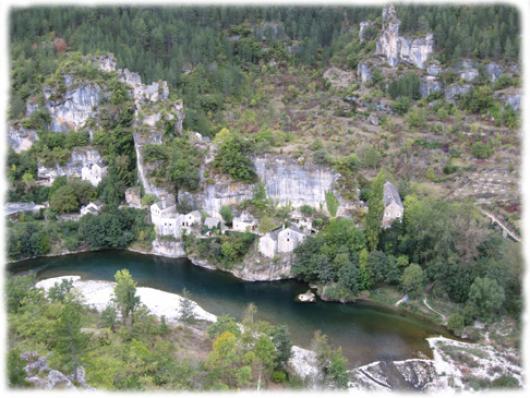 Leave for a tremendous hiking loop right inside the Cevennes National Park. Walk between dolomitic chaos and down in the gorges. Experience a natural environment with a heritage such as dolmens, menhirs and typical housing.
Overlooking the Tarn and its green waters, vultures may fly around you.
PROGRAM:
We offer this hike between Tarn Gorges, Jonte Gorges and Causses Sauveterre & Méjean
Day 1 : 19 km - elevation : 1240 m
Day 2 : 19 km - elevation : 490 m
Day 3 : 15,5 km - elevation : 745 m
Day 4 : 23 ou 20 km - elevation : 575 m
Day 5 : 15,5 km - elevation : 895 m
PERIODS
Self guided tour : from April until October
Guided themed stays : spring, summer  and automn
Pour toute information complémentaire et détails concernant le programme du séjour, nous contacter en cliquant ci-dessous :
from 380,00 € / pers - base 6 personnes

 

Hiking 5 days / 5 nights

 

The price will vary according to the number of people & the options. Please fill in the form accordingly.
For any further information, please contact:
Phone : +33 4 67 45 00 67
Mail : fred-faby@languedoc-nature.com
ACCOMMODATION AND MEALS:
- Accommodation in gites for groups and in B&B (arrival the previous day).
- Lunch: Picnic given each morning prior to departure.
- Dinners : local tastes.
TYPE OF TRIP:
Guided tour
From 4 persons, your can be guided by a fully qualified local guide. This person is passionate by his region and he knows how to share with you his knowledge about landscapes, the flora and the fauna or the heritage
2 possibilités :
1- Vous effectuez ce parcours itnérant en compagnie d'un guide local Accompagnateur En Montagne (A.E.M) - groupe à partir de 4 - 6 personnes.
2- * Nous vous proposons également une formule de randonnée en étoile en compagnie d'un guide accompagnateur en montagne local qui vous fera découvrir ses coins secrets sur le secteurs des causses, gorges du Tarn et de la Jonte.
Dans cette formule, 2 thématiques peuvent être envisagées :
- "Sous les ailes des vautours" - 3 jours, l'occasion d'aller à la rencontre de ce grand rapaces, de l'observer et de comprendre les raisons du succès de cette réintroduction initiée au début des années 80.
- "Les Causses grandeur nature" - 4 jours, séjour à la rencontre des écosystèmes (de leur nécessaire préservation) et de l'histoire géologique des sites naturels. Ce séjour sera également l'occasion d'approcher la rivière Tarn à travers une descente en canoë ou rando aquatique pour découvrir les spécificités de son biotope.  
Self guided tour
You are given maps (1cm=250m) and a road book describing the hike.
LEVEL:
This hike is quite easy, although you need to be in a good shape. A regular physical effort all year long will help you to have fun during this trip.
COME BY TRAIN:
We all know the impact of our car travels on the environment. Driving to the holidays location can produce a large amount of CO2 because of the long haul distance to get away...
Therefore, if low impact mobility interests you, Millau, welcomes you. A bus or our minivan can take you to your accommodation.
Check your journey by train with SNCF or OUIGO and contact us for any further information
La prestation comprend
• Accommodation in gite for groups, hotels or in B&B.

• Breakfasts, packed lunches and dinners.

• The road book and the maps in the self guided trip or a guide in the guided tour.
La prestation ne comprend pas
• Personal expenditure
• Comprehensive insurance (4,5%)
• Luggage transport (possible if disered)