Hiking on the Sentier Cathare
Hiking on the Sentier Cathare
From Languedoc to Pyrénées visiting the Cathar Castles
7 days / 6 nights - 13 days / 12 nights - 5 days / 4 nights
Departing from the Corbières (South of Carcassonne) to the Pyrenees mountains, the Cathar path is a link between Languedoc and Pyrennes. This route unveils different kind of sceneries such as garrigues, plateau, forests, gorges and mountians. This area was also the place where strong and tragic moments of the History took place when the Cathar people turned their back to the French Kingdom in Queribus, Peyreperthuse or Montségur are some of the castles remaining from this period.
Along these 7 stages, you walk surrounded by an amazing natural environnement on a path bordered by Cathar fortified castles. This superb hike takes you back to the medieval languedocian past.
Trip highlights:
- a wide variety of landscapes: from the shores of the Mediterranean to the Ariegean Pyrenees
- the Corbières, its scrubland and vineyards
- The Hautes Corbières and its castles: Aguilar, Quéribus, Peyrepertuse...
- the possible visit of the castles
- the encounter with a land steeped in history
TYPE OF TRIP:
- Guided hike* : A qualified guide provides his services and presents the region, the natural sites and the local heritage.
- Self guided hike : We provide the maps and the road book. We reserve your accommodation and your meals.
* group : From 4 personnes

Travel advisories:
Hello
Our journey is over, under a blazing sun in the Mediterranean...
We are very satisfied with your service, perfect and well-informed book (differences in altitude + -, distances, different routes etc...), the authentic, warm, sometimes original welcome, very good and copious regional meals. In short, a very good treck to be redone perhaps on other paths with you.
With kind regards.
Valérie and Claude - du Rhône
Back home, we are very happy with our hike in this beautiful region. We met very open-minded people who love to talk and share their knowledge, and we thank you for your professionalism in organizing our trip,
We spent superb holidays in Cathar country, we will renew our next trekking tour, perhaps, but we still want to discover the region.
Christine and Philippe de Charente
Everything went well. Nice hike. Quite sporty, but not too sporty, good balance. Warm at the beginning, a little rain at the end.
In general, the route on the map was easy to follow. We had some problems just before entering the Galamus Gorge - the trail as traced on the map is no longer there, or we couldn't find it.
The ascent of the Bugarach Peak (S-side, through the 'window') is steep and not well marked, so hikers may need to be advised to avoid it in case of bad weather.
But anyway, it was excellent! It gives ideas for next year!
Joris of Belgium
We had a great stay thanks to you: magnificent landscapes, people always very attentive and endearing (Puppets in Puivert), meals and gargoyle picnics. In short, "Marc and his friends" are ready to renew the adventure.
The only reproach: time has gone by much too fast!!!!!
Marc d'Agen
Overall the whole stay went very well, we were not disappointed, and the welcome was always rather warm, especially in the gîtes d'étapes. In Espezel, we had the pleasure to taste a delicious chicken with chanterelles.
Marjorie and Alfredo des Landes
Translated with www.DeepL.com/Translator (free version)
LEVEL:
This hike requires a good physical shape and a fair resistance due to the length of the stages and the difference in height.
Like every activity lasting few days, you should prepare yourself by walking everyday at least 30mn. Going to the gym or jogging would bring some benefit to prepare this stay.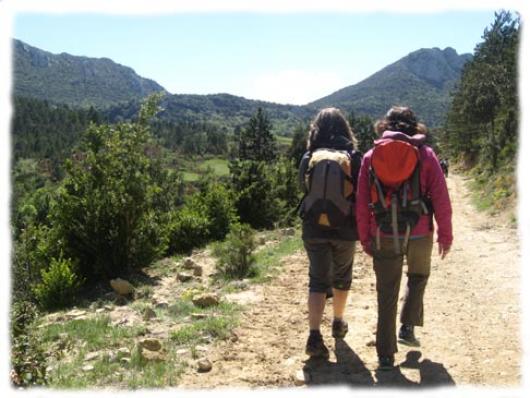 PROGRAM:
7 days tour
Day 1 : 23,5 km - difference in height: +727 / - 429 meters
Day 2 : 21 km - difference in height :+ 863 / -684 meters
Day 3 : 12 km - difference in height :+ 482 / - 537 meters
Day 4 : 23 km - difference in height :+ 610 / - 785 meters
Day 5 : 20,5 km - difference in height :+704 / - 504 meters
Day 6 : 17 km - difference in height :+587/ - 147 meters
Day 7 : 23 km - difference in height :+: 494 / - 249 meters
 
12 days tour
Day 1 : 28 km - elevation : + 610 m
Day 2 : 26 km - elevation : + 1050 m
Day 3 : 22 km - elevation : + 730 m
Day 4 : 21,5 km - elevation : + 905 m
Day 5 : 15,5 km - elevation : + 990 m
Day 6 : 24 km - elevation : + 700 m
Day 7 : 20 km - elevation : + 700 m
Day 8 : 16,5 km - elevation : + 535 m
Day 9 : 19 km - elevation : + 685 m
Day 10 : 14,5 km - elevation : + 710 m
Day 11 : 15,5 km - elevation : + 715 m
Day 12 : 17 km - elevation : + 605 m
Hike in loop
We can also organize a loop over 4 days (with south variant) 
Day 1 : 18,5 km - elevation : 1150 m
Day 2 : 22 km - elevation : 995 m
Day 3 : 18 km - elevation : 695 m
Day 4 : 20 km - elevation : 985 m
PERIODS
April from November
La prestation comprend
• Accommodation in gite for groups or iin B&B.
• Breakfasts, packed lunches and dinners.
• The road book and the maps in the self guided trip
• The transfer by mini-van at the end of the ride.
La prestation ne comprend pas
• Personal expenditure
• Cancellation and comprehensive insurance (4,5%)
• The transfer of the luggage (feasible option)
COME BY TRAIN:
We all know the environmental impact of our car journeys. Going on holiday is a significant source of CO2 emissions, particularly because we generally travel long distances to get away from it all...
So if you are interested in "soft mobility", the Rivesaltes station is there to welcome you. A taxi or a minibus will make the connection with your accommodation.
Simulate your journey by train or contact us for further information.