Hiking from Cevennes to the Causses
10 days / 9 nights or 11 days / 10 nights
Across Cevennes NP and RNP Grands Causses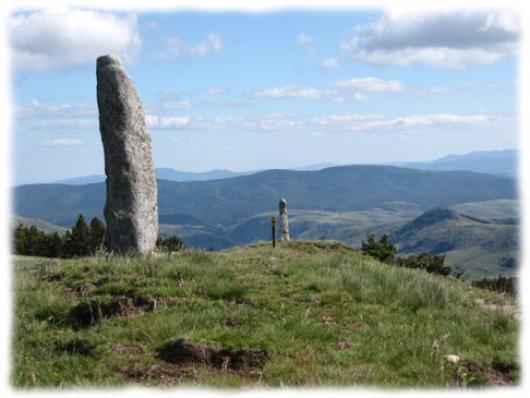 Cross the Cevennes like Robert Louis Stevenson did when he travelled over here. Robert Louis Stevenson helped to promote hiking within this land.
Our original route takes you from Cevennes to the limestone plateaus of the Grands Causses, UNESCO Natural Heritage awarded for its landscapes designed by shepherds.
In the South of the Central Massif, the ancient trails taken for the transhumance, the villages and the farms with their shepherd's houses and the traditional ponds make up the landscape.
Throughout this hike, you walk by the Lozere Mount, the Causse Méjean and the Causse Noir.
PROGRAM:
This long-distance trekking itinerary immerses you in the heart of natural spaces where biodiversity as well as cultural and human heritage are protected. You leave the National Park of Cévennes to reach the Regional Natural Park of the Grands Causses. You will discover a territory rich in diversity, starting with the geology that will take you from schist to limestone, passing the granite of Mt Lozère. You will alternate between wooded environments (chestnut grove, beech forest, fir trees...) and open (landes, subalpine lawns, causses steppes) for the greatest pleasure of the eyes !
This hike can be envisaged during 9 or 10 days.
10 days hike
Day 1 - 14,5 km - elevation : + 945 m
Day 2 - 19 km - elevation : + 285 m
Day 3 - 20 km - elevation : + 905 m
Day 4 - 19 km - elevation : + 935 m
Day 5 - 23 km - elevation : + 830 m
Day 6 - 12,5 km - elevation : + 255 m
Day 7 - 20,5 ou 23 km - elevation : + 575 m
Day 8 - 15,5 km - elevation : + 895 m
Day 9 - 20,5 km - elevation : + 775 m
Day 10 -  16 km - elevation : + 330 m
the variant 9 days is with one day closer of hike on Causse Méjean.
PERIODS
From Mai to Octobrer
PRICE
Hike 11 days / 10 nights

 

from 735,00 € / pers

 

* for 6 persons

The price will vary according to the number of people, the duration of the stay and the selected options. Please fill in the form accordingly.
For any further information, please contact:
Phone : +33 4 67 45 00 67
Mail : fred-faby@languedoc-nature.com
ACCOMMODATION AND MEALS:
- Hébergement en pension complète en gîte d'étape, hôtel et chambre d'hôtes suivant les étapes (arrivée la veille au soir).
- Repas de midi: pique-nique remis chaque matin avant le départ.
- Repas du soir "saveurs locales"
TYPE OF TRIP:
Guided tour
From 4 persons, your can be guided by a fully qualified local guide. This person is passionate by his region and he knows how to share with you his knowledge about landscapes, the flora and the fauna or the heritage
 
Self guided tour
You are given maps (1cm=250m) and a road book describing the hike.
LEVEL:
For his hike  you need to be in a good shape (lenght and elevation of certains days). A regular physical effort all year long will help you to have fun during this trip.
 
COME BY TRAIN:
We all know the impact of our car travels on the environment. Driving to the holidays location can produce a large amount of CO2 because of the long haul distance to get away...
Therefore, if low impact mobility interests you, Villefort, welcomes you. A bus or our minivan can take you to your accommodation.
Check your journey by train with SNCF or OUIGO and contact us for any further information
La prestation comprend
• Accommodation in gite for groups, hotels or in B&B.

• Breakfasts, packed lunches and dinners.

• The road book and the maps in the self guided trip or a guide in the guided tour.
La prestation ne comprend pas
• Luggage transport (possible if disered)
•The way back to the starting point by bus & train (we can give advice to organize it)
• Personal expenditure
• Comprehensive insurance (4,5%)