Walking Tours in Aubrac
The land of wide scenery
Loop hiking - 2, 4 ou 6 jours
Hiking Tour In Aubrac Mounts - 5, 7 or 8 days
Charming landscapes and intense sunlight make Aubrac so attractive. Prairies and tracks bordered by low stone walls has been designing this land for ages.
You walk with your guide to experience this wild land called Aubrac.
Trip highlights:
- a guide passionate about the Aubrac plateau.
- open and spectacular landscapes
- Aubrac cows
- a flora of great richness
- local flavours (Laguiole cheese, Aubrac meat, aligot, gentian, Aubrac tea...)
TYPE OF TRIP:
Guided tour - Hiking in loop
From 4 persons, your can be guided by a fully qualified local guide. This person is passionate by his region and he knows how to share with you his knowledge about landscapes, the flora and the fauna or the heritage.
Self guided or guided tour - Aubrac Mounts Tour
You are given maps (1cm=250m) and a road book describing the hike.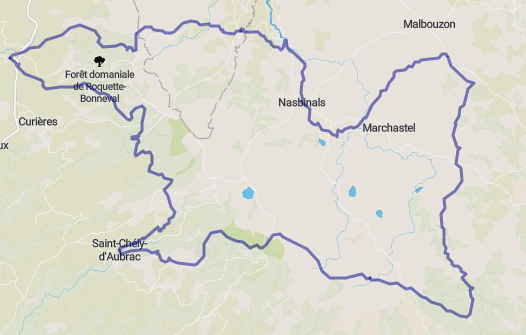 Travel advisories:
Hello, Fred,
We apologize for this late answer, but everyday life takes over these rights and time passes!!!
We would like to thank you warmly for the organization of this hike which will remain engraved in our memories.
We are in love with this region and the itinerary was magical ! Never any bad surprise, everything is well done and it's really appreciated.
Our only concern is walking, you did the rest !!!
The two stages passing to the lake of Born and the Rajas were a radiant immersion in the landscape of Aubrac and with hosts
who are characters from the territory!
We feel like part of a big family thanks to you Fred thank you
We made some nice encounters on our way and also with people from the plateau.
Here it is, an itinerary that amazed us every day and a duration of 9 great days.
I wish it could have gone on!!!
Have a good end of season and thank you again for listening to our requests.
Sincerely
Sylvie and Patrick - August 2019
At the beginning of October, we did the Tour du Mont Aubrac organized by Languedoc Nature. Fred and Fabienne from Languedoc Nature worked with us to modify their original offer. We wanted a self-guided tour at a slower pace with luggage transfer so that our small group could enjoy the rural beauty of the Aubrac. Fred provided us with customized digital "gps" files for our smartphone navigation applications, as well as IGN maps that showed the trails we would follow each day. The accommodation was much better than we expected. The hotels and guest rooms were charming, clean and comfortable. The staff was always warm and responsive to our needs. They prepared excellent dinners, nutritious breakfasts and sandwiches to take home in our lunch bags. During our previous treks in France, we have used other trekking travel agencies. We chose Languedoc Nature because we thought we would receive a more personalised service than the big agencies. We were not disappointed, Fred and Fabienne offered us an excellent travel experience with the selection of personalized trails, accommodation, meals, luggage transfer and responsive communication even during the tour. Our small group is from Colorado, we are in our sixties and our French skills are unfortunately minimal. These small age and language challenges did not prevent us from enjoying a wonderful trek.
KC Foley - Colorado
Good evening
We had received your mail but had forgotten to answer you.
The stay went really well, the organization, the accommodation was mostly very good. The walking days were well balanced without difficulty.
The region is very beautiful with a little more heat that would have been perfect especially during the picnic breaks and arrivals at the gites which, for some did not open until 17:30.
I think that it is necessary to specify it to the travellers on the Road book so that they manage their walking time.
Thank you for your organization and see you soon maybe.
With kind regards.
Valérie - August 2017
Good evening, sir,
We were delighted with our stay in Aubrac, our friends who were discovering this region and we who had already been seduced.
Our guide met our expectations thanks to his professionalism, his great knowledge of the history and traditions of this region, and above all his availability and good humour.
The accommodation at the hotel suited us perfectly, the rooms, the meals, the atmosphere... everything was of a very good level.
The strong wind did not alter our good impressions.
In summary our stay was successful, we will recommend your group.
Cordially.
Geneviève
Good morning, sir,
I'm finally taking the time to answer you. I have also transferred this one to the members of the group so that they can also give you their impressions.
Personally I am more than satisfied with the stay we spent in Aubrac at the beginning of July. My first visit to Aubrac dates back to April 2007 when I was on my way to St-Jacques. This year I was able to discover Aubrac in a completely different way. What a contrast between April and July. Of course, Aubrac remains a wild land, and that's why we love it, but Aubrac in bloom, what a treat! We were able to enjoy grandiose landscapes in a generously sunny weather. The welcome was very good. The two guides were up to the task, taking us off the beaten track, gratifying us with their knowledge of history, botany, ornithology, ... As for the local gastronomy, nothing to say, it was perfect. Definitely a hiking tour to recommend.
Best regards.
Eric (Belgium)
LEVEL:
This hike is quite easy, although you need to be in a good shape. A regular physical effort all year long will help you to have fun during this trip.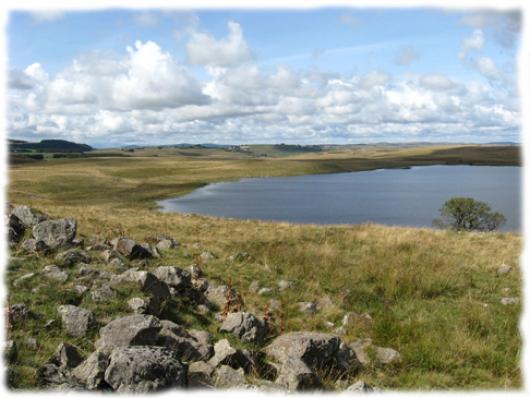 PROGRAM:
Hiking in loop
This 2, 4 or 6 days guided hike takes you throughout the wilde landscape of the Mounts Aubrac.
Aubrac Mounts Tour - 5, 7 or 8 days
Hiking tour through the Aubrac Mountains.
5 stages of 19,25,18,23 and 17 km - elevation : from 220 to 990 m
7 or 8 stages of 18,17,22,24,18,23 and 17 km - elevation : from 220 to 1010 m (8-day formula - 7-day extension - D 3:17.5 km)
PERIODS
From April until November.
La prestation comprend
• Accommodation in gite for groups, hotels or in B&B.
• Breakfasts, packed lunches and dinners.
• The road book and the maps in the self guided trip or a guide in the guided tour.
La prestation ne comprend pas
• Personal expenditure
• Comprehensive insurance (4,5%)
• The transportation of lugage (possible if chosen)
COME BY TRAIN:
We all know the impact of our car travels on the environment. Driving to the holidays location can produce a large amount of CO2 because of the long haul distance to get away...
Therefore, if low impact mobility interests you, Aumont Aubrac, welcomes you. A bus or our minivan can take you to your accommodation.
Check your journey by train with SNCF or OUIGO and contact us for any further information.