Cycling along Canal du Midi
Ride along a UNESCO Heritage and visit Carcassonne
6 days / 5 nights (from Castelnaudary) or 7 days / 6 nights (from Toulouse)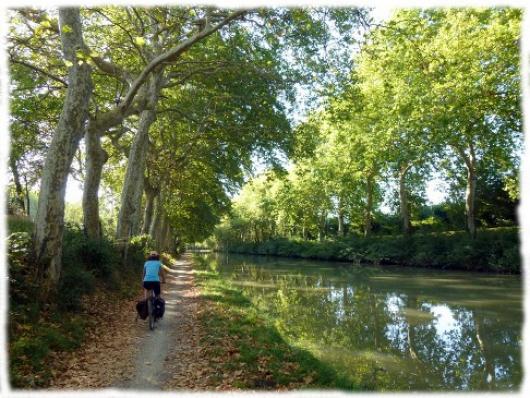 The Canal du Midi is the clue for this trip. Riding on the towpath's canal, you start your itinerary in the Lauragais (or Toulouse), you visit Carcassonne, you cross the Corbières and you end up on the Mediterranean Sea.
Thanks to the huge work financed by Paul Riquet, you visit a wide diversity of landscape and of architectural heritage. At last but not the least, local delectable food and wines will melt in your mouth.
PROGRAM:
Cycling trip in 5 stages with either a mountain or a hybrid bike, on the southern part of the towpath's Canal du Midi
Day 1 : 49 km
Day 2 : 43 km
Day 3 : 44 km
Day 4 : 46 km
Day 5 : 48 km
We can also organize an itinerary over 3 days (from Carcassonne to Mediterranean sea - Cap d'Agde) and add some visits to wine estates.
Biking tour

6 days / 5 nights

from  485 € */ person

 

* base 4 persons

 

From Castelnaudary to Sète

Self guided tour

 

The price will vary according to the number of people, the duration of the stay and the selected options. Please fill in the form accordingly.
For any further information, please contact:
Phone : +33 4 67 45 00 67
Mail : fred-faby @ languedoc-nature.com
ACCOMMODATION AND MEALS:
- Accommodation in B&B and in hotels
- Breakfast, packed lunch and typical dinner are included
TYPE OF TRIP:
We book accommodation, breakfast, packed lunch and dinners.
LEVEL:
This bike trail is easy with unimportant difference in height
COME BY TRAIN:
We all know the impact of our car travels on the environment. Driving to the holidays location can produce a large amount of CO2 because of the long haul distance to get away...
Therefore, if low impact mobility interests you, Castelnaudary or Toulouse, welcomes you. A bus or our minivan can take you to your accommodation.
Check your journey by train with SNCF or OUIGO and contact us for any further information