Activity Holidays in the Caroux Mountain – Higher Languedoc
Activity Holidays in the Caroux Mountain – Higher Languedoc
Climbing, speleology, caving, canyoning, via ferrata, canoeing, trekking, orientation, mountain biking...
6 days / 5 nights - 4 days / 3 nights - Week end
Located in the heart of the Haut Languedoc Regional Natural Park, the Caroux massif rises to almost 1100 metres above sea level. The massif and its region constitute an enormous potential for outdoor activities. We invite you to come and practice them with passionate pros !
Also called "mountain of light", this Mediterranean mountain offers ideal conditions for the practice of mountain sports. Due to its steep gorges and innumerable walls, it is one of the main granite climbing sites. Benefiting from a micro-climate and a still preserved environment, the Caroux allows an easy approach to the middle of the high mountains. According to your aspirations, your tastes and your level you will benefit from optimal conditions to practice your favorite sport or to learn other disciplines, all supervised by professional guides (B. E.). From initiation to the intensive practice of a mountain sport through the practice of several activities, the Caroux will enchant you for its beauty and diversity.
Trip highlights:
- an impressive concentration of activities!
- passionate and passionate pros who will guide you on the most beautiful spots.
- Canoe descent "endiablée" on the Orb river
- Initiate or improve your climbing skills on the cliffs of the "Montagne Lumière".
- jumps and slides in beautiful canyons
- Whether it's an exciting downhill mountain bike ride or a quiet hike, it's up to you!
TYPE OF TRIP:
Guided  formula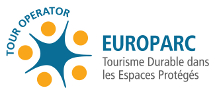 Languedoc Nature has obtained the approval of part 3 of the European Charter for Sustainable Tourism. This distinction was awarded by the French section of Europarc and applies to travel operators engaged in the promotion of sustainable tourism in protected areas. Séjour constitué dans le cadre d'une collaboration avec le Parc Naturel Régional du Haut Languedoc engagé dans la Charte Européenne du Tourisme Durable (CETD).
Some of the accommodations in this stay have the "Welcome to the Haut-Languedoc Regional Nature Park" mark.
This means that they are part of the development of sustainable tourism. The brand is attached to values: attachment to a territory, preservation and enhancement of the environment, human dimension. Les "Les Accueils du Parc" offer their customers many advantages: calm, comfort, warm and friendly welcome, discovery of the heritage, products and know-how.
The establishments are also distinguished by their eco-responsible practices.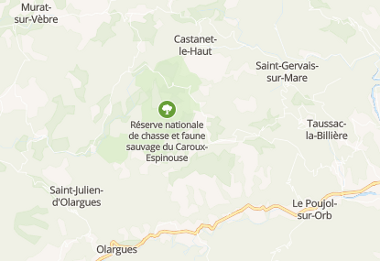 Travel advisories:
Hello, Frederic,
We were thinking of writing to you to give you our impressions and thank you, but you beat us to it. Everything went very well. We were very positively surprised by the very warm welcome and the professionalism of the service providers.
The 3 guides were very nice, available, very attentive to our wishes while being tjs "safe".
Robert came to see us to ask us what we wanted and proposed us an orienteering course which bcp pleased the young people.
In short we had a very good stay and our young people are also delighted.
We were very seduced by this region of the Caroux and will surely come back. So many things to do...and to see.
Thank you for your organization!
See you soon surely
Cdlt
Helene G
The welcome at the guest house was very good.
I also very much appreciated the framing qualities of the guide.
I am very satisfied with the progress of my stay. If you wish to perfect your stay, a small indication concerning the schedules of the canoe/kayak activity would be a plus. In short, from our first contact to this message, I am completely satisfied with the whole: the formula, the content, the quality, the follow-up and the professionalism of each one.
See you soon,
Eric
We were very happy with the whole stay and we thank you for it. The accommodation and the welcome are perfect and the hostess is very available, the meals are delicious, the canyoning guide is great, the activities are a real pleasure and the landscapes are splendid... We have no negative points to share with you.
Thank you for your professionalism and availability.
Aurélie and Pierre de Toulouse
Hello and thank you for this stay that we really enjoyed my son and I both by the activities and the landscape without forgetting the kindness and the talents of good cook of Christine at the gite. Thank you and surely see you next time.
Jérome
I wanted to thank you for the quality of service, both from a hosting perspective and from a stakeholder perspective on the activities. We were greeted like kings at the B&B ! Really we were delighted with our stay with them; very good food, hygiene and cleanliness, great atmosphere, very good comfort, in short EXCELLENT. Concerning the activities, mention EXCELLENT. In addition to being very competent, the instructors are very friendly and very pedagogical. The activities were super well carried out. We enjoyed climbing, canyoning and via ferrata."
Naama
LEVEL:
This stay is intended for sportsmen and women or those who have a regular sporting activity. The guides are there to initiate you and/or to perfect you, they will know how to adapt to the level of each one and will adjust the degree of intensity of the various practices.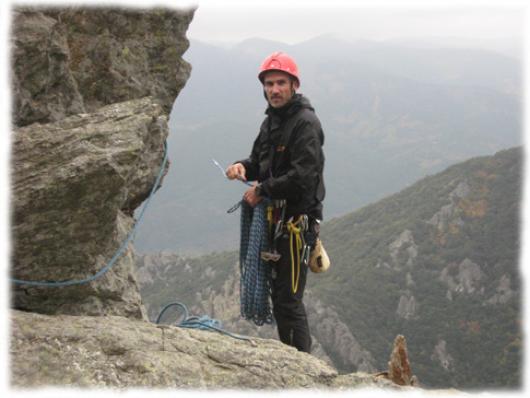 PROGRAM:
Multi-activity stay Climbing, canyoning, via ferrata, canoeing - kayaking, speleology, mountain biking...
Can't you just settle for one sport ? It is up to you to prepare a sports holiday that meets your desires, by practicing the sports and nature activities of your choice. In holiday package, we propose you activities in half a day. You have the other half day to discover the region or simply rest.
Via ferrata and climbing
The granitic cliffs of Caroux are among the great climbing sites of the region. Initiation, great routes, adventure terrain, the possibilities are numerous in terms of practice. For children and teenagers, it is a perfect place to discover the "climbing" in an exceptional natural environment, all supervised by a local B. E climbing guide (8 maximum - departure from 4 pers.).
Equipment supply: harness, carabiner, ropes, drawbars. Possibility of making climbing shoes available (on reservation).
Canyoning
The creeks and streams that flow from the Caroux plateau dig impressive cuts in the gneiss and granite. They are a wonderful "natural playground" for water trekking and canyoning. The activity is supervised by a local B. E. Canyoning guide (8 maximum - departure from 4 pers).
Equipment supply: neoprene coveralls, protective shorts, neoprene socks, helmet and waterproof cans (1 for 2 persons).
Canoeing
The Orb river descends from the plateau of Escandorgue to rush between the Caroux massif and the front mountains dominating the vineyards of St Chinianais. With a torrentuous profile on certain sectors, the Orb is one of the most famous sites in the regiion for canoeing and kayaking. The diversity of its "spots" makes it accessible to all levels of practice. Course from 9 to 15 km proposed.
Canoe or kayak rental - Equipment supply: lifejacket, helmet and paddle - Shuttle bus to the departure point.
Mountain bike trekking
Supervised by a BE mountain bike guide who knows the Massif du Caroux as a person, you explore this magnificent playground. He will be keen to share his passion and make you discover all the diversity of routes: forest trails, ascent of passes, monotraces on the plateau, technical descents... Service adapted to the level of the participants.
Equipment supply: ATV and helmet.
Walking tour
The Regional Natural Park of the Upper Languedoc has particular climatic features due to its geographical location: an Atlantic influence on its northern and western slopes and a Mediterranean influence on its southern slopes. All this gives the region many possibilities of hiking suitable for occasional hikers as well as the most sporty ones. Supervision by an AEM hiking guide with the "Itinérance en milieu naturel" label.
Guides and activity providers selected for this stay benefit from the "Accueil du Parc"brand. You are thus assured to be welcomed by professionals attached to this territory, concerned about the environment and attentive to the human dimension of their service.
PERIODS
from April to November
La prestation comprend
- Accommodation in a gîte or bed and breakfast.
- Lunch (picnic) and evening meals.
- Supervision by professional state-qualified guides.
La prestation ne comprend pas
- Cancellation (4.5%) & comprehensive insurance
- Personal expenses
COME BY TRAIN:
We all know the environmental impact of our car journeys. Going on holiday is a significant source of CO2 emissions, particularly because we generally travel long distances to get away from it all... So if you're interested in "soft mobility", the Bédarieux train station is there to welcome you. Simulate your journey by train or contact us for further information.