Who we are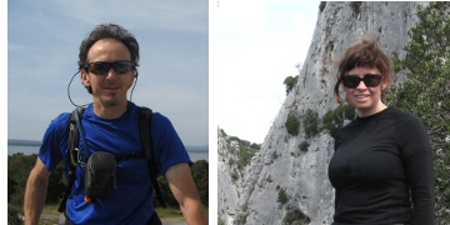 Languedoc Nature opened in June 2004, it is a travel agency founded by Frédéric Certain and Fabienne Le Velly. Here is a bio of the two partners.
Frédéric Certain
Born in Châtellerault in 1967
Since his early childhood, and the family fishing parties, Frédéric has always been attracted by nature. Trout fishing brings him close to wild and secret places where he experiences the pleasures of immersion. Later on, the practice of outdoor sports activities allows him to approach the natural environment from other angles. Hiking of course, but also mountain biking, which he discovered in the early 90s.
After studying agronomy and working as a sales executive in the food industry, Frédéric made a 180° turn in 2003 with the setting up of a project for an outdoor travel agency in Languedoc Roussillon and the southern Massif Central.
This creation came about because of Frédéric's great desire to revitalise this area he had fallen in love with. In the agency, Frédéric is in charge of the conception of the stays, of their sale, of the relations with the institutions (including the natural parks) and the local networks, of locating the paths and itineraries for hiking (on foot, by trail, by mountain bike, by cross-country skiing ...) and of meeting the people who will give the best welcome to the customers.
 
Fabienne Le Velly-Certain
Born in Talence in 1968
1991 : Master's degree in Tourism in Angers
1992: Bachelor of Science in London
1992: Dorchester Hotel in London
1993 : Hotel de Catiglione in Paris
1998 : Birth of Yann
1998: Tourism trainer in Montpellier
1999: English-French translator
2002 : Birth of Timothy
2004 : Associated with Languedoc Nature
Fabienne is passionate about tourism and listening to the customer is at the heart of her approach to travel creation. In the agency, she takes care of the maintenance of the website, international relations and general accounting. Outside Languedoc Nature, Fabienne is responsible for tourism training at the INFA in Montpellier.
Settled in the region since 1998, Frédéric and Fabienne have developed a good knowledge of Languedoc and the southern Massif Central. Each day is an opportunity to learn a little more about the unusual places, the lovely trails, the Mediterranean flora and above all about the people who live and work in these territories.
Fascinated by travel, they went hiking in Nepal, Iceland, Morocco (in the Atlas Mountains), Crete, Sicily, Quebec, Sweden ...
Without forgetting the Pyrenees, the Massif Central, the Jura, the Alps and this, on foot, mountain bike or cross-country skiing in winter !